Key Word Kids Review
Win this app on Facebook October 2014!
We offer free copies of apps we review on Facebook, Enter the giveaway here.
App Overview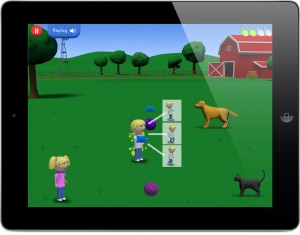 Key Word Kids is a fun and educational app built by a Speech and Language Pathologist and a Special Education teacher. The app teaches receptive language and following directions in a fun-filled way. The directions increase in complexity as the user goes through the app and there is lots of encouragement built in. The app includes five different fun themes with different objects, animals and people in them. The child is given instructions to follow on screen from very basic like "touch the dog's head," all the way to something as complex as "Make James get the spotted beanbag and throw it to Nat the Cat". Key Word Kids is a robust app that is great for any young child, or older child diagnosed with a language delay or other special need.
App Features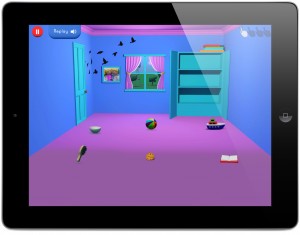 The app opens up to a menu that allows you to choose between a level check and working sequentially through comprehension activities or expression activities. You can also choose to navigate to more specific areas of the app in "Extras." You can choose to go to particular background themes or even choose specific directions/sentences to work on. You can also go straight to the "mini games" from the "Extras" screen. The settings allow the caregiver to set the reward frequency (how often "breaks" are given to play the mini games) and if the directions are given vocally, with text, or using both.
Level Check
The comprehension check is a great way to easily find baseline for your student, child or client. The mini assessment asks questions of varying difficulty and then suggests which level to start your kiddo at. The most basic level is "Expression" and allows the user to "free play" with the different backgrounds, props and characters. There is a "record" option in the expression level that also can encourage children to to express language about what they are acting out within the scenes.
Activities
The comprehension activities are incredibly scaleable. They move from simple two word instructions to more complicated directions. The most complex of instructions involve several steps and require that the child understands important concepts, discriminates between items and holds several different steps in their memory while following the directions. The app introduces simple nouns in the beginning levels and then eventually leads to discriminating between more complicated adjectives and verbs.
Mini Games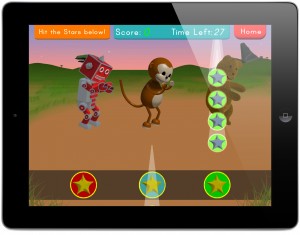 There are five different mini games within the app. The games are either presented randomly after your kiddo completes a certain number of activities or can be browsed to from the "Extras" screen. The games range in complexity from a very simple "bubble popping" game that only requires the kiddo tap bubbles, to a more complicated game that has your kiddo playing different drums along with the beat of a song.
What's Great About This App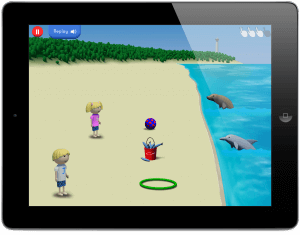 Key Word Kids is a great app for teaching important language skills in a fun and engaging way. One thing to note for users from the United States, the app is Australian so there are a few vocabulary words that may be difficult, for example a chocolate chip cookie is called a "biscuit". These small differences are few and far between and don't affect the user experience too greatly. It is a wonderful app that can be used across a variety of ages and abilities. Because there is such a wide range in the app in can grow with your kiddo. I highly recommend this app for anyone wanting to teach receptive language skills in a fun way.
The Language and Learning Steps website contains tons of extra support and resources including videos and answers to frequently asked questions. At the time of writing this review Key Word Kids retailed for $23.99.