Dracolino App Review
Win this app on Facebook March 30, 2015!
We offer free copies of apps we review on Facebook, Enter the giveaway here.
App Review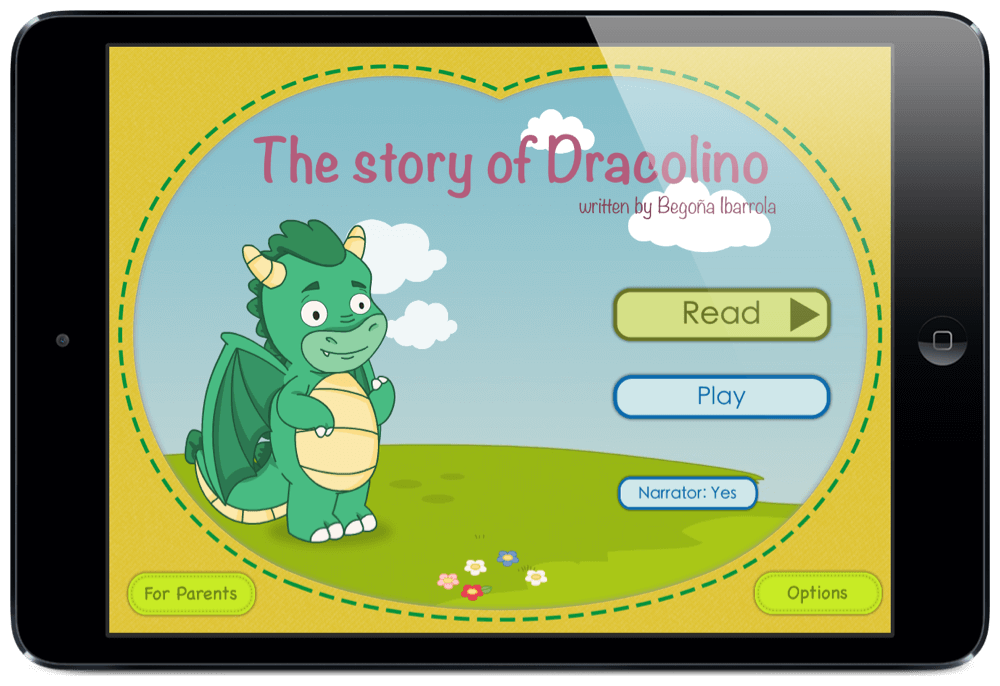 I am excited to be reviewing the Dracolino App this week. Dracolino is a fun and interactive storybook app about a dragon that loves to sing. The other dragons breathe fire and scare people but Dracolino sings and whistles every time he tries to breathe fire. He gets embarrassed and angry because he is different. Through the story, your child will be able to make choices for Dracolino which will decide the story's ending. Dracolino will be able to realize that it's okay to be different and you should not be embarrassed about who you are. You will be charmed away by this adorable character as you explore the mini activities, coloring pages, comprehension questions, and more. The activities focus on emotional recognition, confidence, as well as reading comprehension. This app is recommended for children between the ages of 3-7. It was created by a company called Technology for Emotions. They teach social and emotional learning through technology and iPads.
App Features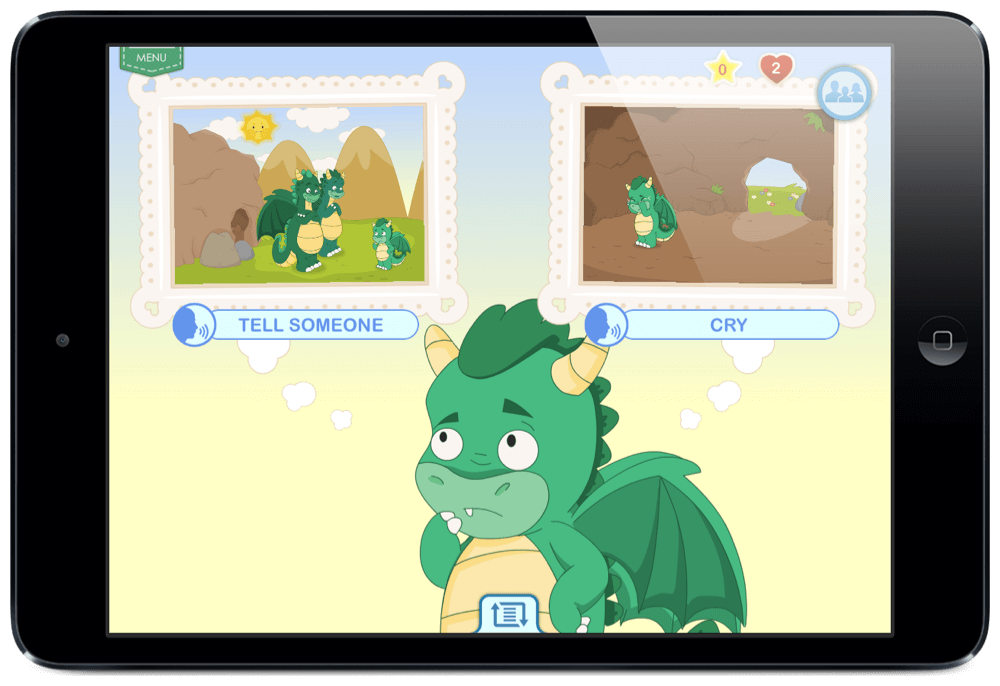 The main menu options include: reading the story, playing the activities, turning the narration on and off, changing the language, or reading the detailed parents guide. When you start reading the story, you will notice that it has subtitles which help encourage reading. It also is fully narrated for children who don't know how to read yet. The subtitles and narration will stop if the child hits the screen. For children with low attention spans, and those that might get tempted to play with the screen a lot, it could be hard for them to get through the story. I would love to see an option available in the future where the story has an auto play mode which cannot be stopped by the child.
I do love however the ability to stop and start the story from where it left off. If your child needs a break, or wants to continue at a later point, you can simply re-open the app and be directed on the main menu to continue from where you were. Overall, the app is very simple to navigate and easy to understand. The parents guide is comprehensive as well. It will likely answer any questions you have.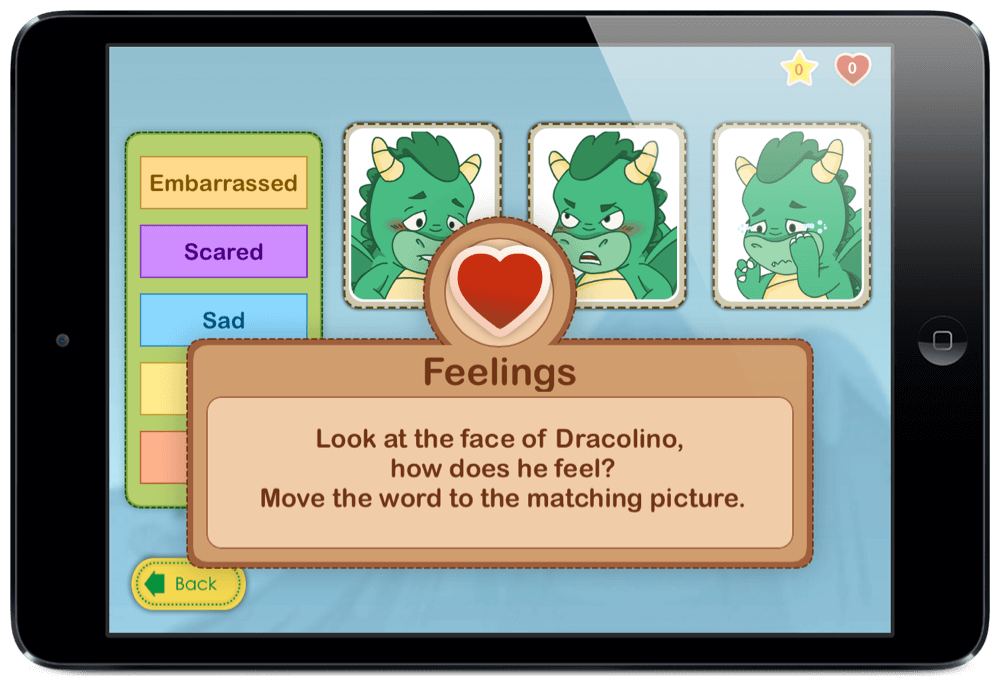 Both of my boys love dragons so they were excited before we even started to open the app. Children will relate to this character. He is very cute and likeable. He is trying to understand his emotions and feelings. I think that finding ways to build confidence in children and allow them to feel comfortable with who they are is extremely important. That is one of the big highlights in this app. Its main focus and goal is to teach about embarrassment and not being afraid to follow your dreams. During the story, you will find activities on most of the pages. I love when the story is very interactive. It helps with reading comprehension. It also gets kids excited and engaged with the story. The child gets to choose the ending of the story and see the consequences and outcomes from those decisions. That is a really cool element and a very unique feature that I haven't seen before.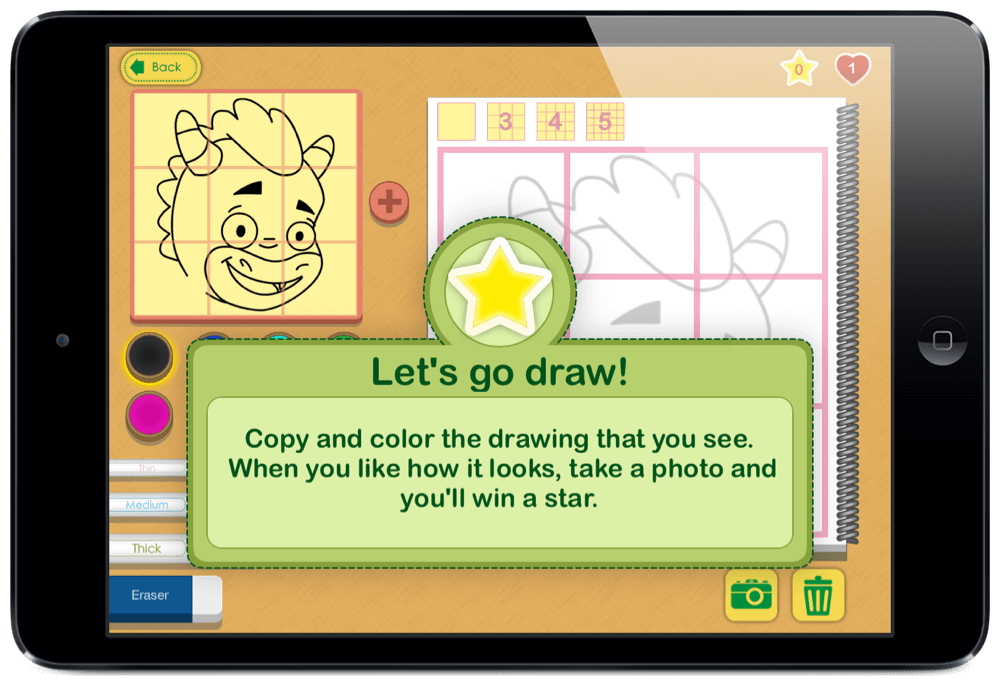 After you have read the story, you can take a quiz, color the characters, or play a game about emotions. My 3 year old son loved coloring the characters and playing the emotion game. He was a little too young for the quiz. He didn't understand the questions or what was being asked but it would benefit older kids who can read. I wish the app had a few more prompts during the quiz and game to help the child but overall, I loved the activities that reinforced the story.
What's Great About This App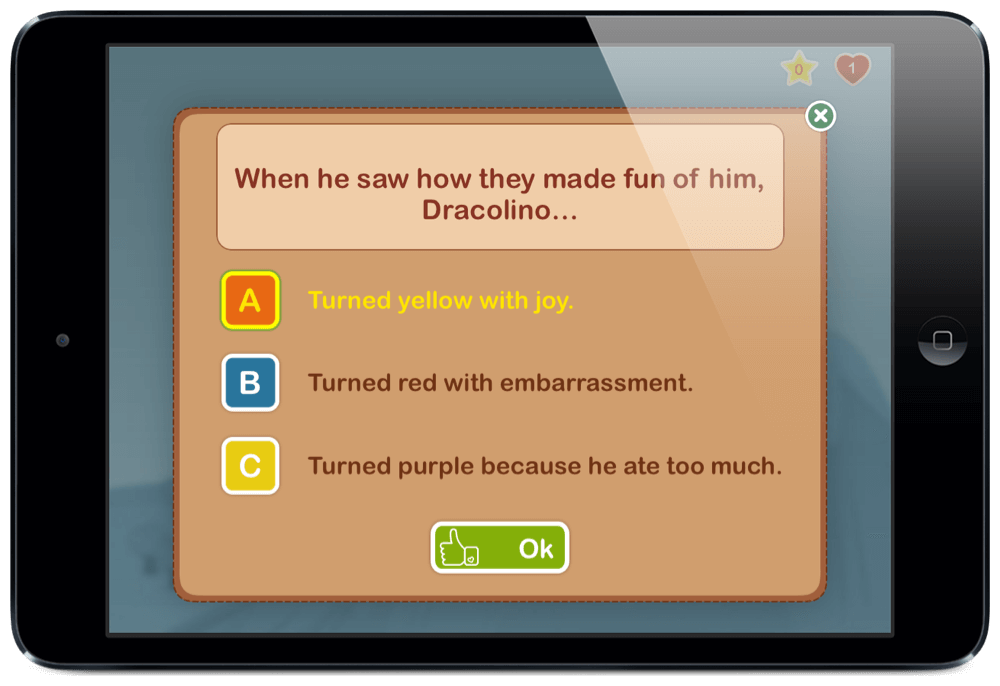 This magical app is definitely focused on social and emotional learning. It is perfect for kids between the ages of 4-7 that struggle understanding emotions, or facial expressions. That might include children with autism spectrum disorders, or downs syndrome. I also think younger kids would enjoy the app but they might need assistance and help. Children who struggle with confidence or embracing differences could also benefit from this app. The music and sound effects are very fun. There are no in-app purchases or outside advertisements so it is very safe. The bright colors and the exciting storyline will keep your kids reading. My favorite feature of this app is the ability to make decisions on how the story will go. I think it's a great teaching tool for kids to be able to visualize and understand the outcomes from those decisions. So hurry over to the app store, sit back with your children, and explore the story of Dracolino.
The Technology for Emotions website contains other apps and computer activities that help with social and emotional learning for children. At the time of writing this review Dracolino retailed for $3.99.