My Shapes & Colors Farm Puzzle Review
Win this app June 25 – 28, 2015!
We offer free copies of apps we review on Facebook, Enter the giveaway here.
My Shapes & Colors Farm Puzzle Review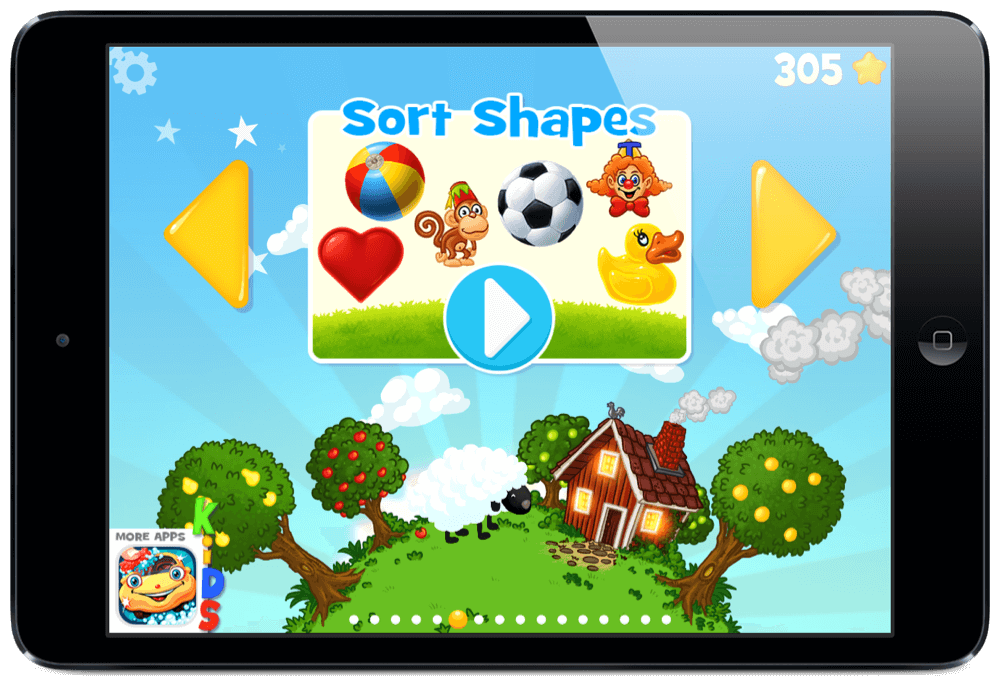 The app I am reviewing today is the My Shapes & Colors Farm Puzzle. It is a new app developed by McPepper Games. It teaches children how to sort and discern between colors, shapes, sizes, and objects. The app is fun, colorful, and contains 16 puzzles. The child playing the puzzles can pop balloons after each level and take as much as time as they want to complete them. This app was designed for babies and toddlers. Most preschoolers will also enjoy this app. I have had the opportunity to review other apps that were developed by McPepper Games. They have a wide assortment of fun and educational apps. They make learning exciting for kids. All of the apps I have tried have great incentives, colorful animation, and helpful ideas to keep children engaged.
App Features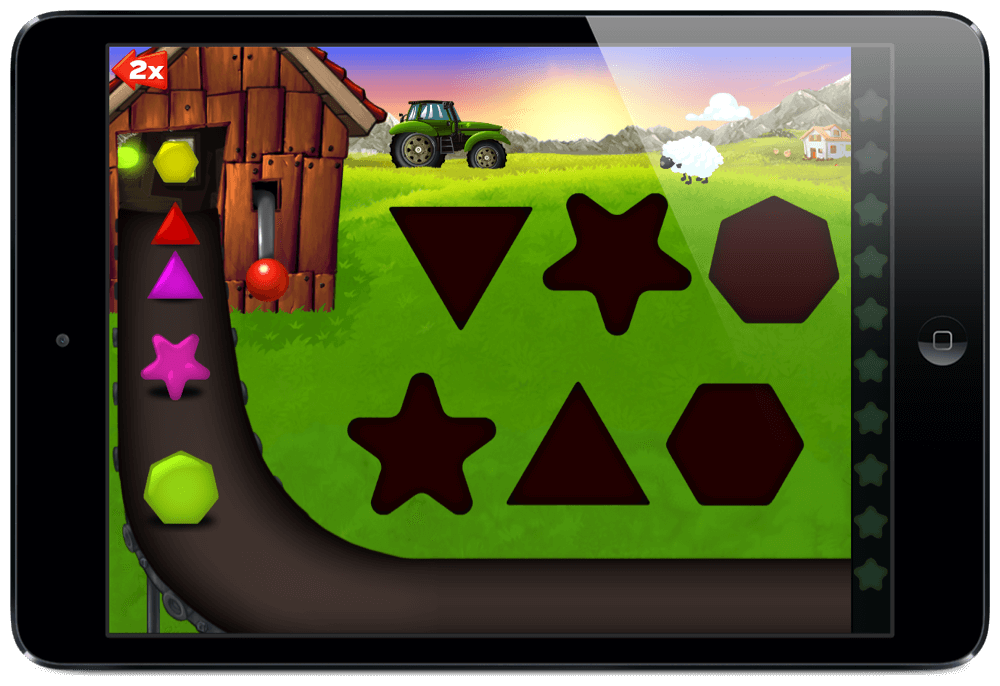 The first thing I noticed when opening the app and looking around was the amount of puzzles that are available in this app. There are 16 to choose from! There are shape sorting puzzles that let you sort fruit, vegetables, shapes, letters, numbers, or miscellaneous objects. There are size sorting puzzles that let you sort pears, eggs, red onions, cherries, or sunflowers. Last, there are color sorting puzzles that let you sort fruits and vegetables, potatoes and peppers, rubber ducks and hearts, or yarn balls.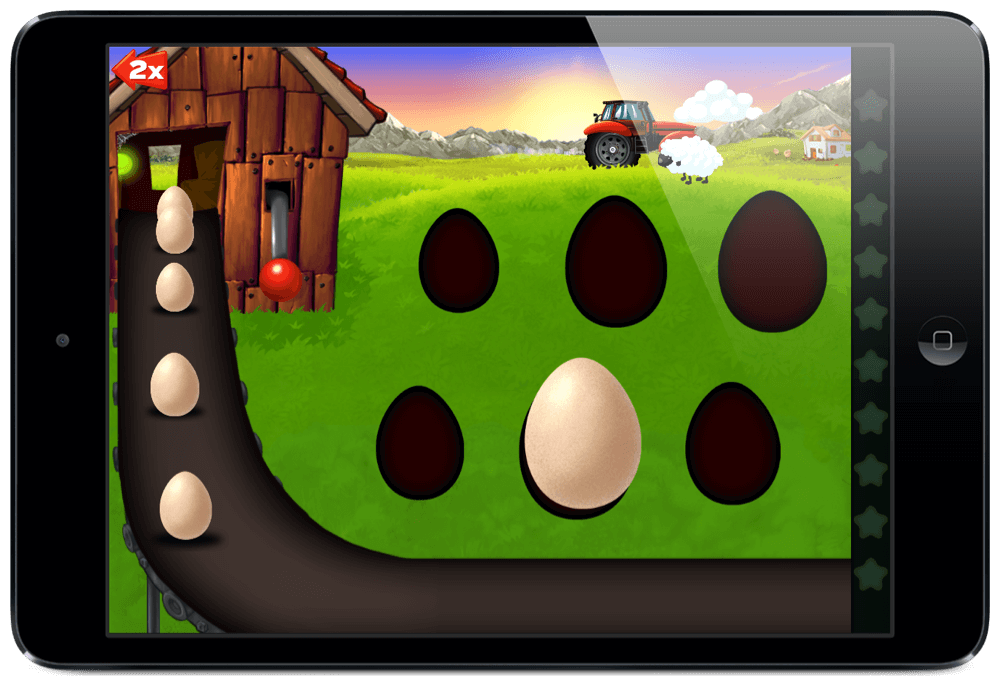 This app is very easy to navigate. You simply scroll through the puzzles and pick the one you want to play. You will pull a lever and the items will slowly appear on a conveyor belt to sort into the right places. The conveyor belt moves pretty slow and gives the child quite a bit of time to sort them. Even though the items disappear on the conveyor belt if you don't sort them in time, more objects will continue to appear until you have passed the level and gotten 10 stars. This is a great feature so that the child can enjoy playing the game but ultimately can take as long as they need to pass the level. You can also pull the lever to stop more objects from coming if you want more time or if the child feels overwhelmed. One improvement I would love to see is more levels that increase in difficulty. Perhaps the conveyor belt gets faster or they do have a time limit. This would help for the app to grow with the child and last longer. You have to get 10 correct puzzle matches to complete the puzzle which earns you 10 stars. After it is completed, balloons will appear for the child to pop or splatter all over the screen. My kids loved the balloons. They were an excellent incentive. The more challenging puzzles for my kids were definitely the size sorting puzzles. I thought it was a great area of improvement but I would probably not start with those puzzles for young toddlers. It takes more time to see where they fit and could become discouraging.
When on the main menu, you will see a link to McPeppers' games and other apps. If the child clicks on the link to see more apps in the app store, they will have to complete a complex math problem to continue into the App Store. I am so glad they have a child lock because my children always enjoy wandering out of the app which can be a little scary. There are no other in-app advertisements or things to worry about. There is no settings menu but the set up is very simple and easy to understand.
What's Great About This App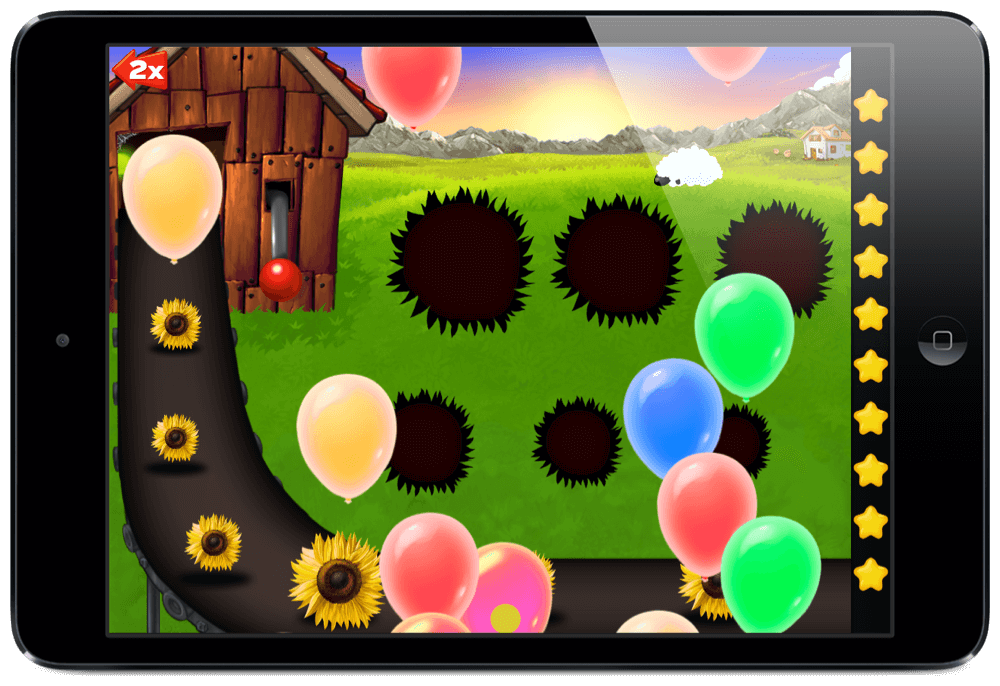 I was impressed with this app. My kids loved it. Children with fine motor delays, or developmental delays will also benefit from this app. The items are easy to drag and drop into place. My boys, ages 3 and 5, struggled sometimes to get the shape in the right place but overall, it was easier than most other puzzle apps that we have tried. I love that the child can continue to play the game as long as needed to complete the level. I would also love to see more levels of difficulty in the future so that preschoolers and kindergarteners could continue to progress and use the app but overall, I was happy and pleased with the amount of activities offered. The bonus game was another cool feature. If you reach a score of 200 or higher, you can unlock the matching bonus game. It is a simple matching game but the child has to take turns with the animated cat character. Be sure to enter the ="http://"> App Giveaways at the Touch Autism facebook page and download your My Shapes & Colors Farm Puzzle app in the App Store. At the time of writing this review, My Shapes & Colors Farm Puzzle is a free lite test version app available for download. It has been made available worldwide June 25th, 2015 and does contain one in-app purchase.
Mcpepper Games develops quality apps for kids. They carry a lot of different learning and fun apps that are worth checking out!