SensoryTreat, Sensory Processing Therapy App Review
Win this app June 17-21, 2015!
We offer free copies of apps we review on Facebook, Enter the giveaway here.
SensoryTreat, Sensory Processing Therapy App Review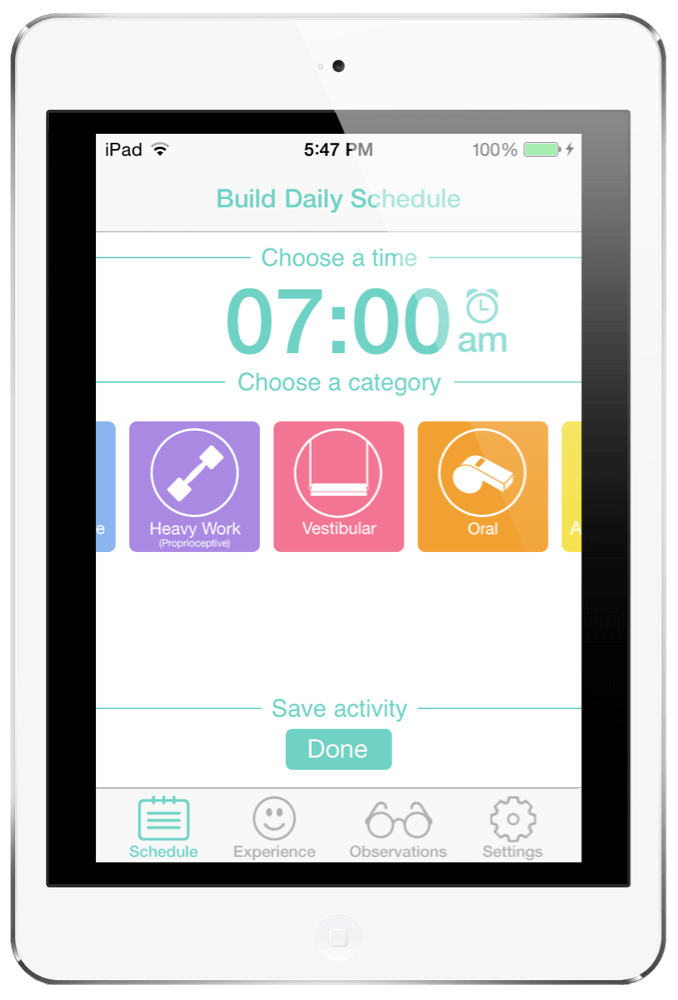 Planning activities and input for kids with sensory processing disorders can be tough. Finding the time, deciding what to do, and remembering to do it is often overwhelming. As a special needs parent, I can attest to the fact that balancing therapies, schedules, and a family life is a messy job. Things can easily get overlooked. The SensoryTreat, Sensory Processing Therapy app can help. It is perfect for planning a sensory diet while at home or on the go. It has never been easier. This app allows you to schedule sensory activities, set reminders, email the reminders to therapists or teachers, and track observations and progress. SensoryTreat was created by parents of SPD children. They have developed this app to simplify a sensory diet whether you are home, at school, or in therapy.
App Features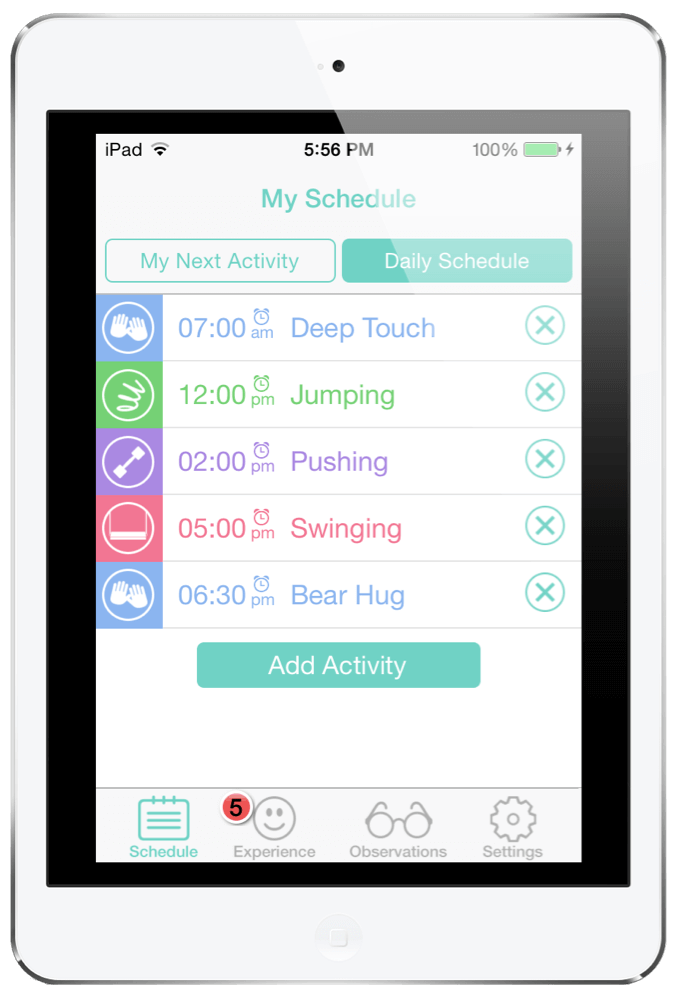 When you open the SensoryTreat app, you will first need to create an account. The app is easy to navigate and the instructions are clear. Once you have created an account, you will receive an email or two explaining how the app works but it is pretty easy to follow. The app is well designed and simple to navigate. SensoryTreat has also created a app tutorial with pictures and all of the steps broken down. This can be found on their website. Once you have created an account and looked over how the app will work, it is time to begin!
How It Works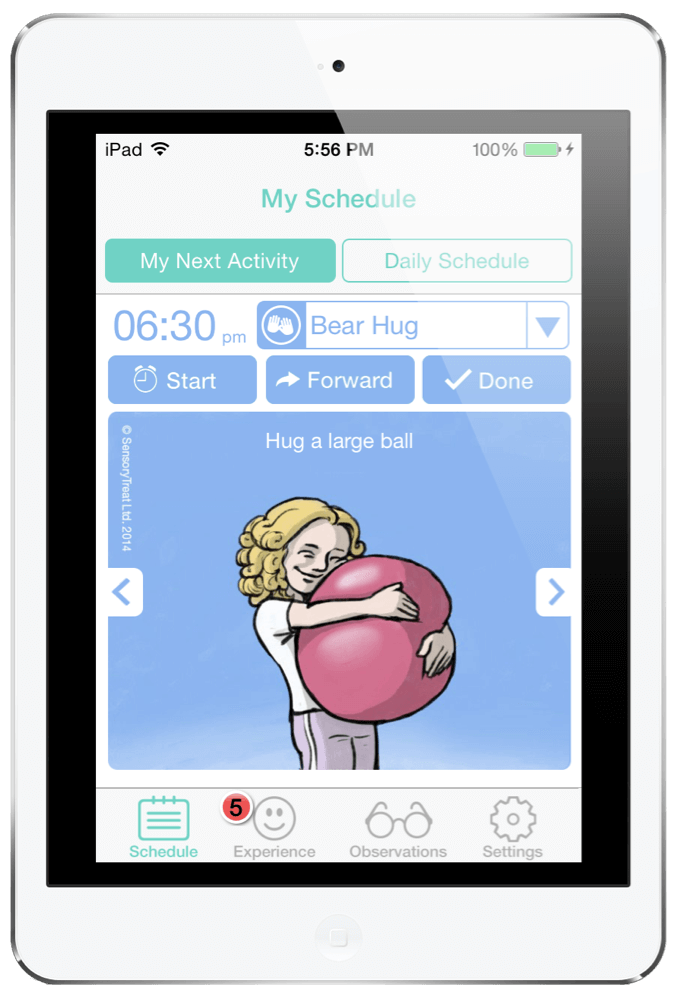 Choosing different kind of sensory input through out the day can be helpful. The app has over 100 ideas to choose from. You can space them out and each idea has a picture illustration with a description of what to do.The categories to choose from are: deep pressure, heavy work, vestibular, oral, or jumping. After you have picked a category, you will pick the actual activity. This can be anything from: using an exercise ball, getting a hand massage, chewing on a certain treat, or much much more. If you have something specific in mind, you can add your own categories or activities as well. You will upload your own image and write up the description for how the activity will work. It will be saved so you can use it regularly.
Feel free to schedule as few or as many activities as you want through out the day. Each morning, you can set a new schedule or you can stick with the same schedule every day. You will need to keep your phone or iPad with you so you can get the reminders and then follow through on doing the activities. Everything else is scheduled and well organized. If your child is at school or therapy, you can send a reminder to the therapist or teacher. You can also write summaries and fill in observations on how the day went. These are well tracked and easy to read. I loved that feature because I was able to see which sensory activities were really working and which ones needed a time change or a different activity.
What's Great About This App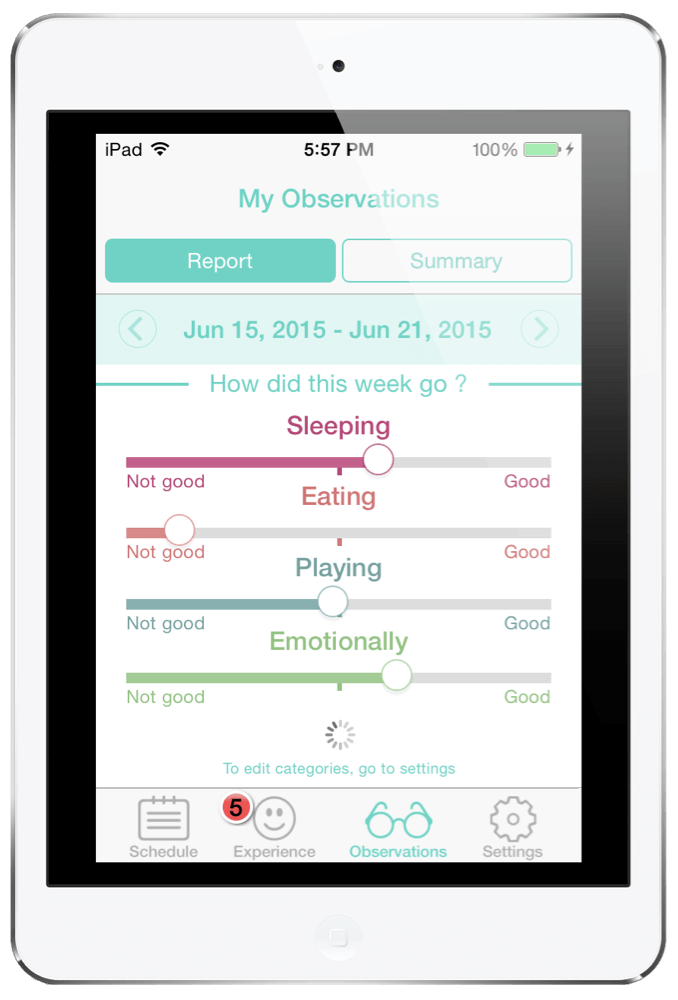 This app is a huge help to parents of children with SPD. It is well thought out when it comes to scheduling and planning for a sensory diet at home! I have a 5 year old who needs lots of sensory input and the ability to schedule it and have it send me reminders is a huge help. I also love the pictures and illustrations. They are easy to see and my son likes looking at them and following the directions. One thing I didn't like was that the app schedule doesn't rotate. You will always need to be in vertical mode. This is probably fine on an iPhone but on the iPad, this was a little annoying. Overall, I am incredibly impressed by the app and will be using it day to day with my son. The subscriptions aren't cheap. I would much prefer to purchase the app rather than to be paying for a subscription but I do think it is worth it. Be sure to check out our Touch Autism Facebook page Touch Autism Facebook page for your chance to win a free subscription for an entire year to this fun sensory diet scheduling app.
SensoryTreat SensoryTreat offers products and resources that teach about Sensory Processing Disorders. It also gives a lot more information about the SensoryTreat, Sensory Processing Therapy app. At the time of writing this review, a 12 month subscription costs $35.99. You are able to download the app for free but will need to purchase a subscription to use the schedule. You can purchase a 3 month subscription for $14.99 or a 6 month subscription for $23.99 if you'd rather try it out before committing to an entire year.