Social Stories To Teach Communication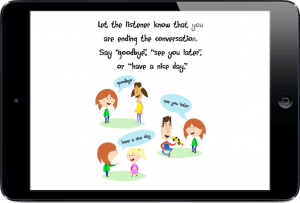 Social interactions such as initiating play, greeting people or having a conversation can be a difficult skill to teach, and for many children to learn. Some children seem to just pick it up, while others need to be directly taught. Using visual supports, like those found in this app, can make teaching communication skills easier and less stressful. This app focuses on three important types of communication skills and also goes over a list of good general conversational skills. The simple text and fun illustrations help teach children what to do in different social settings and what they may expect when starting or having a conversation.
Social Story About Greetings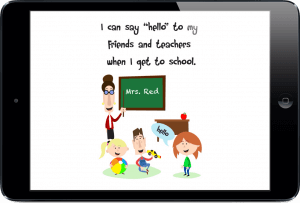 Using greetings is an incredibly important skill that is often the first step for creating and maintaing social relationships. Initiating a proper greeting or responding appropriately to a greeting is a building block to connecting to other people. Having strong social relationships is one of the greatest predictors of happiness throughout one's life. Many children find it difficult to use greetings. They may be unsure of when to use a greeting, how they should respond to a greeting, or who they should greet. This story helps break down the complex social skill of "greeting someone" into small, manageable, easy to learn steps.
Asking Someone to Play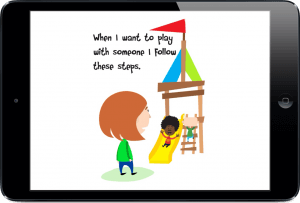 Making friends is an incredibly important life skill. Making friends and initiating play are skills that often need to be directly taught. Many adults learned them at such a young age that it can be difficult to remember how we were taught, or how difficult of a task it can be for children. Isolation and loneliness can be devastating for children and can discourage them from initiating social relationships later in life. This simple social story uses descriptive text and pictures to explain how to initiate play with other children. The visual supports found in this app help children remember step by step how to ask other children to play. The social lessons that children learn from free play with each other is incredibly valuable and something that cannot be replaced.
Conversation Social Story
Teaching children to communicate effectively is one of the most important things we can teach them. Failing to teach communication skills can socially limit a child for their lifetime. Children often do not learn communication skills without being directly taught. Children who are more timid, or are diagnosed with an autism spectrum disorder or other social delay may fail to pick up on social cues, making learning a social skill like carrying a conversation especially difficult. Just like any other skill, conversational skills need to be deliberately developed and practiced over and over. This social story, and question and answer conversation tool, gives children a safe place to practice this important skill and may increase awareness of how to initiate and maintain a conversation.
Fantastic app – Our son with special needs help with socials skills and this is an amazing app for conversation and continuing a conversation . This app gives you so many ideas and ways to keep a conversation going with pics … Thank you

Anil $hekhar
RRich – Once again another good app for working with chidren with SN. I love the simplicity of the language. A great tool to scaffold conversations.

RichMumof6
Similar Apps
Apple, the Apple logo, and iPad are trademarks of Apple Inc., registered in the U.S. and other countries. App Store is a service mark of Apple Inc.