Exercise Buddy App Review
Win this app August 16, 2015!
We offer free copies of apps we review on Facebook, Enter the giveaway here.
Exercise Buddy App Review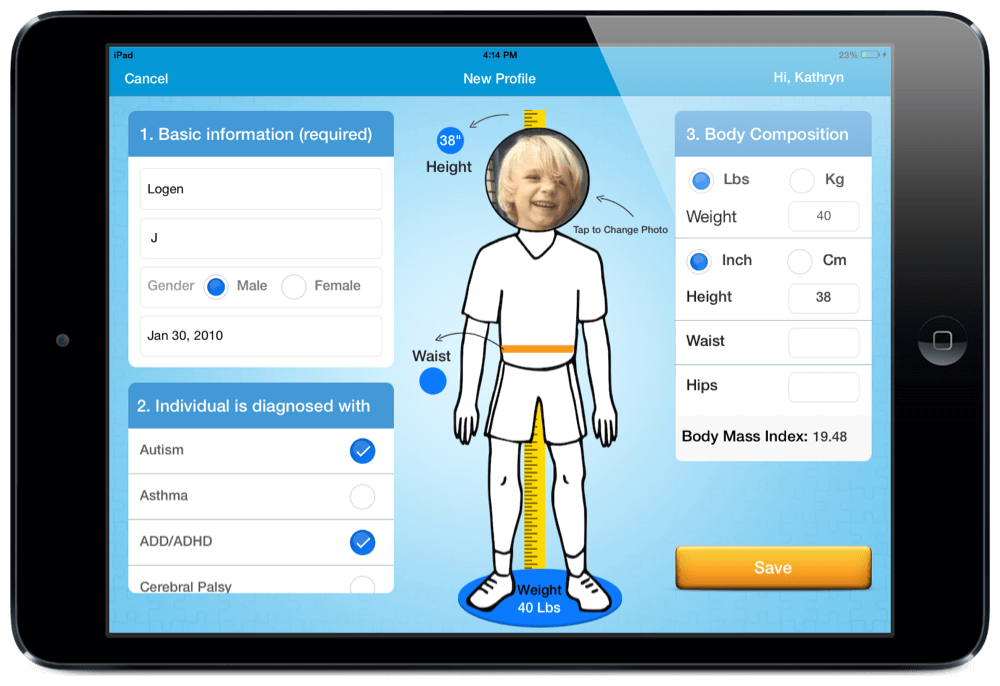 It can be difficult to introduce children with special needs to exercise. Exercise Buddy is a fantastic tool for teachers, parents, therapists, trainers, coaches, and professionals. It helps you set up workouts, come up with the appropriate exercises, and track the progress for a child with Autism, Downs Syndrome, ADHD, Cerebral Palsy, Diabetes, and other special needs. You can also print off lots of worksheets for kids and helpful handouts. It is a visual exercise system with videos, exercises, worksheets, and a healthy history tracker. The exercise buddy team that helped create and develop this app includes an autism fitness specialist, a special education teacher, a speech language pathologist, and a technology specialist. Their company focuses on creating products and services that help children with Autism and other special needs exercise and stay healthy.

How It Works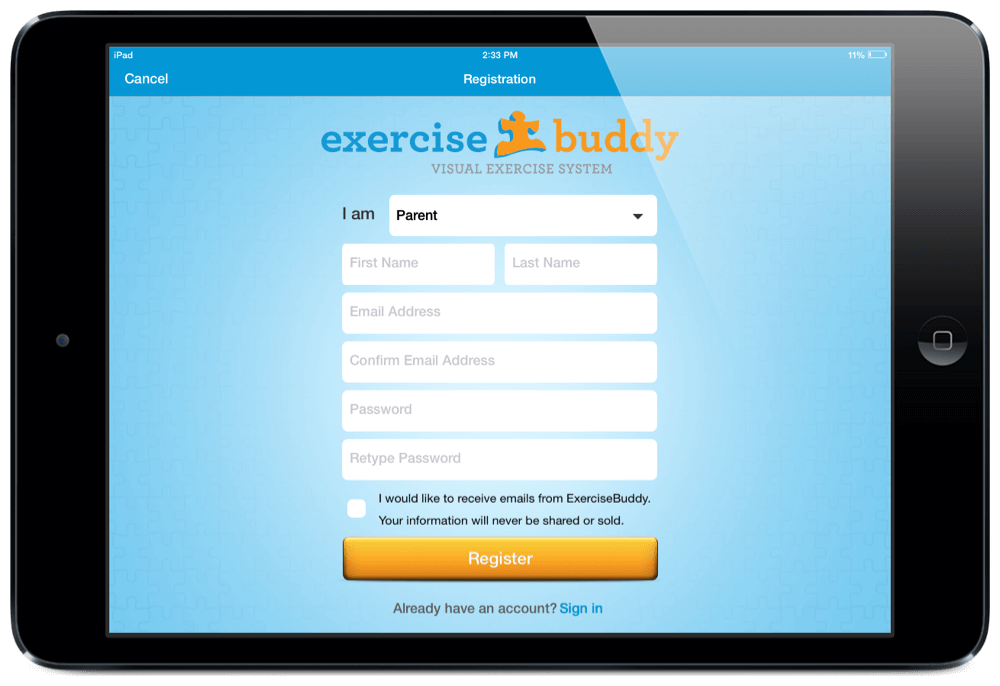 When you first enter the app, you will be asked to create an account. It should be noted that to use this app at the beginning when setting everything up, you will need wifi. You can't register a child, download exercises, update exercises, or sync saved workouts without it. You also cannot print without a Internet connection. You will be able to use the app without internet if you are not doing those things however.
This is meant for parents, teachers, or professionals. After you have created an account, you will create profiles for each of the children participating in the app. Creating a profile is easy but you do need a number of measurements. You will take their weight, height, waist, and hip measurements. It will put together the child's Body Mass Index. You will also need to know the child's diagnosis if any. I love that you can input a picture for each child. As a former swim coach, it can be hard to remember everyone's special needs. Having the pictures helps and adds a personal touch.
After you have a profile, you are ready to get things set up as far as an exercise plan. Before you do that, you might spend some time looking at the other sections including: tips, health history, browse exercises, teaching tools, body systems, and the about section. I have a brief summary for each section below. The other sections really helped me understand the app and how to use it. Once you have acquainted yourself with the app, you can click on "Workouts" and after set up a "New Workout".
A new workout can use a start/finish goal or a first/then goal. I love this because my son really works better with first/then goals. It also depends on the exercise you are doing as to which of those set ups would work best. After you choose which set-up to do, you will choose the exercises for that workout and how long or how many reps the child will be asked to complete. There are many exercises with videos that help to choose. For parents with little to no experience in exercise training, it might be difficult to decide which ones are best and in which order. I think it would be helpful in the future to have examples of workouts for certain age groups or for different motor delays. I also think a section within the app that goes over the safety basics of exercise and training would be great. Overall, I love the set up. You can save the exercises to the child's profile and easily access them. I should mention that their is a tab called "Coach Dave's Workouts". Dave is an Autism Fitness Specialist who helped develop the Exercise Buddy app. He has various workouts to use and they do help when choosing what to start with. They are not divided by age group but do offer beginner workouts and basic skill ideas.
App Features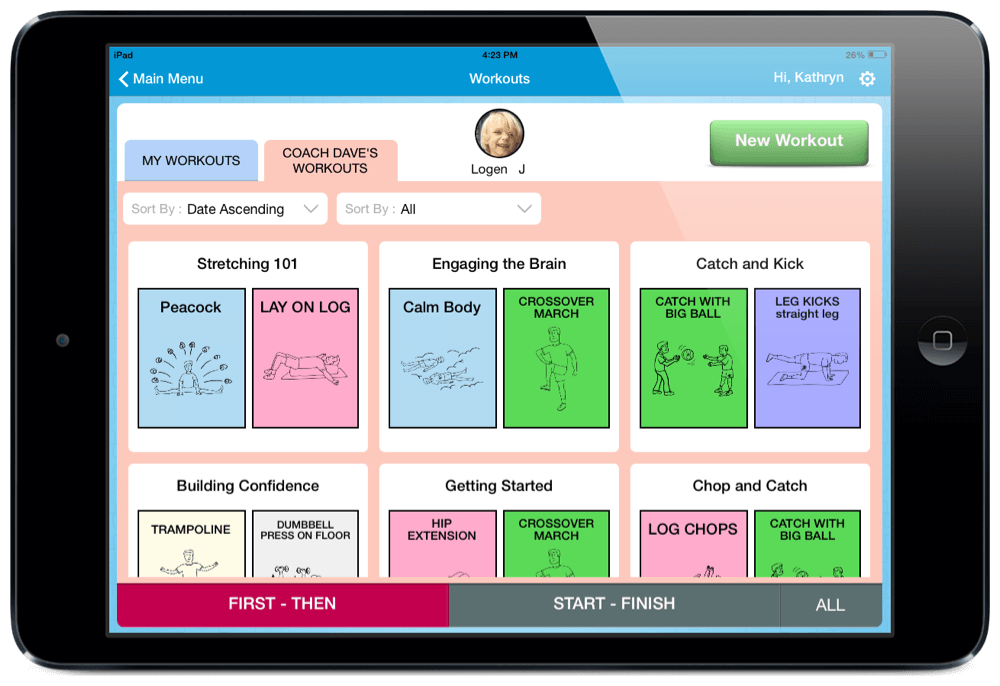 There are many different sections in the app that can be helpful teaching tools. These include: Workouts, Health History, Browse Exercises, Teaching Tools, The Body Systems, Tips, and the About section. We have already gone over the Workout section above so I will skip that and cover the rest.
Health History
The Health history tab allows you to track progress, jot down notes, print a health history, and change the user photo. This might be hard for a teacher with a large class but it is perfect for a personal trainer, therapist, or parent. It also may still be essential and easier for a p.e. teacher to keep track of everything using this app even if it will be a lot of work at first to put everything in and create the profiles.
Browse The Exercises
The amount of exercises available is really impressive! The child can watch videos for many of the exercises. The categories include: yoga, sports exercises, cardiovascular fitness, muscular fitness, abdominal strength, motor coordination, posture, body image, dynamic flexibility, and fitness room. There are 175 exercises to choose from!
Teaching Tools
In the teaching tools section you will find flash cards, tests about the different systems in the body, nutrition activity sheets, coloring pages, labeling activities, movement lesson plans, exercise stories, word searches, and matching worksheets. These are great for teachers, therapists, and personal trainers. They can also help parents know how to introduce some of these exercises appropriately. You can print them off so you don't use them with the app.
The Body Systems
This tool is pretty neat. It goes over all of the body systems and it can be labeled. This could be used by the adult or child. Getting a child to understand their body will help them be more aware of how to take care of themselves and make healthy choices. In the app, you can choose between learning about the body, muscular system, skeletal system, digestive system, or brain. As a parent, I actually enjoyed clicking on everything and checking it out. It was pretty cool.
Tips
This tips tool gives some great ideas on how to navigate the app. They specifically go over certain sections that you might need some help getting started with. It also offers help on getting the wifi set up if you are having trouble. It is pretty comprehensive but I would love to see a complete overview for beginner parents.
About
This section goes over how the app began, and their mission statement. It talks about the different backgrounds and experience for the people creating the app. I always like reading about who created it and why. It helps you understand how it can help you.

App Overview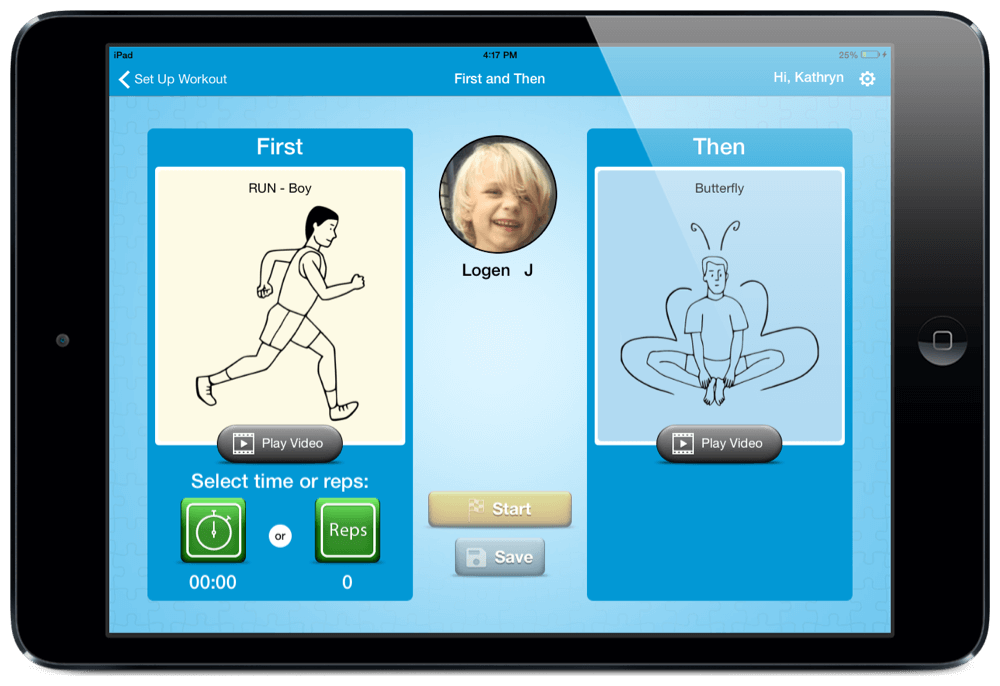 This app is perfect for p.e.teachers, or special needs professionals that are looking to introduce a special needs child to working out or exercise. This will also benefit parents in helping their child exercise and stay healthy. The app is easy to navigate but there are some longer loading times when entering the app. It will mostly be used by the parent or professional and It doesn't matter the age of the child. This app will benefit all ages and will definitely ease the process. I would definitely use this app for my son! I hope to learn a little more about different workouts but I am excited to implement it. Be sure to check out the Touch Autism Facebook page for weekly app giveaways. The Exercise Buddy giveaway will be starting Wednesday August 12th, and ending August 16th, 2015.
Exercise Buddy uses effective strategies and products to introduce exercise to individuals with Autism and other special needs. At the time of writing this review, Exercise Buddy retailed for $29.99 in the app store