MathBoard® Fractions App Review
Win this app December 6th, 2015!
We offer free copies of apps we review on Facebook, Enter the giveaway here.
The MathBoard® Fractions App Review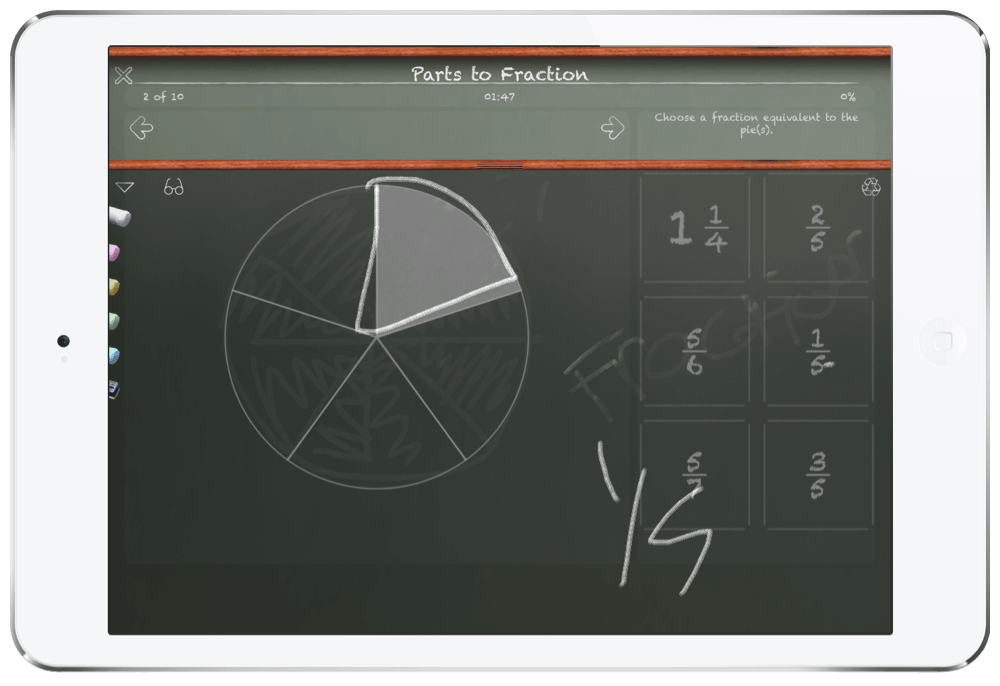 Today I am reviewing MathBoard® Fractions! This app is a great tool for teaching fractions fast! The visual aides, simple layout, and comprehensive activities make it the perfect study companion for fragmenting, pie slicing, and well, fractions.
Having already reviewed SpellBoard® and MathBoard® before, I knew I was in for a treat when downloading MathBoard® Fractions. Pala Software prides itself on creating world class apps. They are all focused on providing effective strategies for learning and continuing education. On their website, you will find several different math and spelling apps available.
This app is very thorough and focuses on supporting students to master fractions. The innovative tools available help students visualize a lot of confusing fraction concepts and begin to really understand them. They have a lot of activities and drills available to continue learning in and out of school. It is suited best for children that can read and attend an activity without tons of in-app reinforcement. You will not find fun characters, or games in this app but it is still very interactive and really focused on supporting the student.
How it Works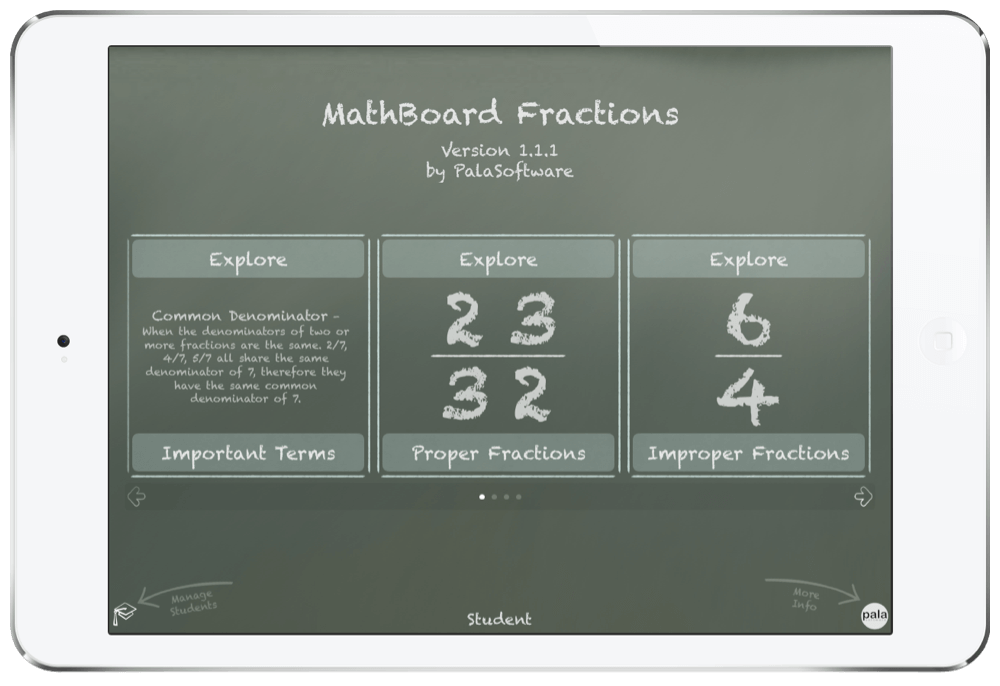 When you open the app, you will be brought to a main menu. If you are the student, you can swipe through the screen to choose an activity to start with. You will notice quizzes, important terms, interactive examples, and more. Some of the activities in MathBoard® Fractions include:
-Exploring proper and improper fractions
-Matching fractions to quantities
-Simplifying fractions
-Comparing fractions
-Ordering fractions
-Adding, subtracting, dividing, and multiplying fractions
This app is not difficult to use but it can be confusing at first and does require some exploring before you begin. A few important features are discussed below.
The scratch board is available at any time and during any problem. You can access it at the bottom of the screen and drag it up as high as you like. You can choose between different colors of chalk, you can wipe the screen or erase certain numbers, and you can hide the problem from the screen or
make it semi transparent while you work.
Another important feature is the ability to customize the quizzes, tests, and problems and make sure they are on level. Before the activity begins, you can choose the amount of problems, whether to time the quiz, how much time to give, the value, and minimum and maximum denominator, and more. Once you have finished the activity or quiz, you can view the "i" icon on the scoring results page and view an overview for each problem. At anytime, you can also click on the light bulb icon which will lead you to the problem solver. This amazing tool will help explain how to solve the problem or concept in the future and it will give visual examples.
If you are a parent or teacher that wants to access a students' data, you will click on the bottom left and follow the steps for adding a student into the system and emailing their progress.
This app is vey adaptable for the child. It will grow with them and continue to challenge them for years. My husband who loves math tested it out for a minute and was very excited by the pop quizzes and interactive activities. It truly is for anyone studying fractions.
One improvement I would make to the math and spelling apps by Pala Software is to create an inclusive main app that can store all of the great activities together rather than in several different apps. I would love to have everything organized rather than downloading multiple apps and having to keep them all stored on my device. A child that is studying fractions will also likely benefit from the other apps by Pala Software at the same time.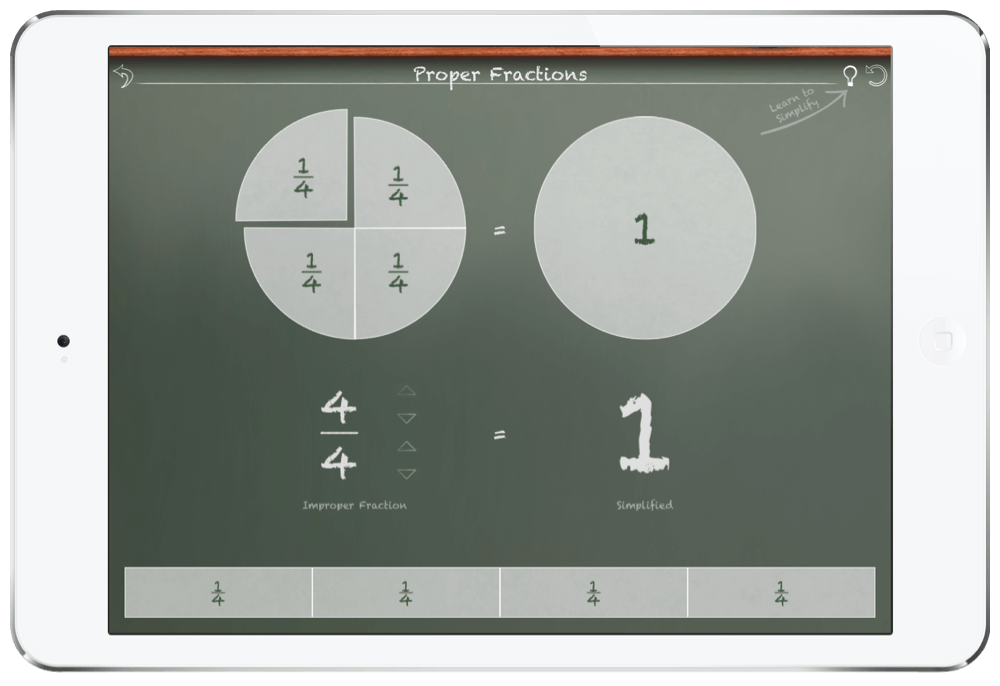 MathBoard® Fractions App Overview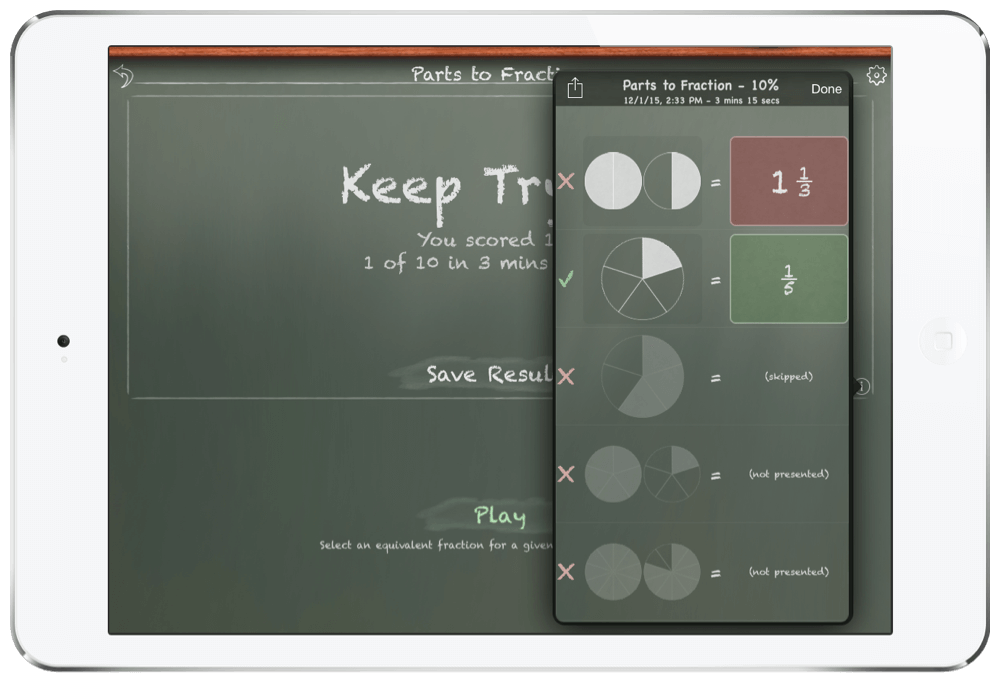 I would recommend this app for children 8 years and older. It will benefit a child best that has already been introduced to fractions in school but this is a great refresher and study tool for fractions at any age. I am a very visual learner and so as a child, I would draw everything out on scratch paper to understand. To this day, I still have to jot everything down to really process it correctly. I love that this app is very hands on and allows the user to explore and work out their thoughts on a visual interface. Children with special needs tend to process concepts differently. Many excel however at video games, drawing, and engineering because they can see it. It's visual for them. This app will help those kids that need to have an interactive learning experience. It also will benefit typical learning children that need to practice and test their abilities. This app is compatible with an iPhone, iPod touch, iPad, It is also available in 4 different languages: English, Spanish, Italian, and French. Be sure to enter the giveaway found on the Touch Autism Facebook page and get your copy of MathBoard® Fractions today! At the time of writing this review, MathBoard® Fractions retailed for $4.99
To learn more check out the Pala Software,creating world class learning apps.