Sammi Signs App Review
Win this app October 14th-18th, 2015!
We offer free copies of apps we review on Facebook, Enter the giveaway here.
Sammi Signs App Overview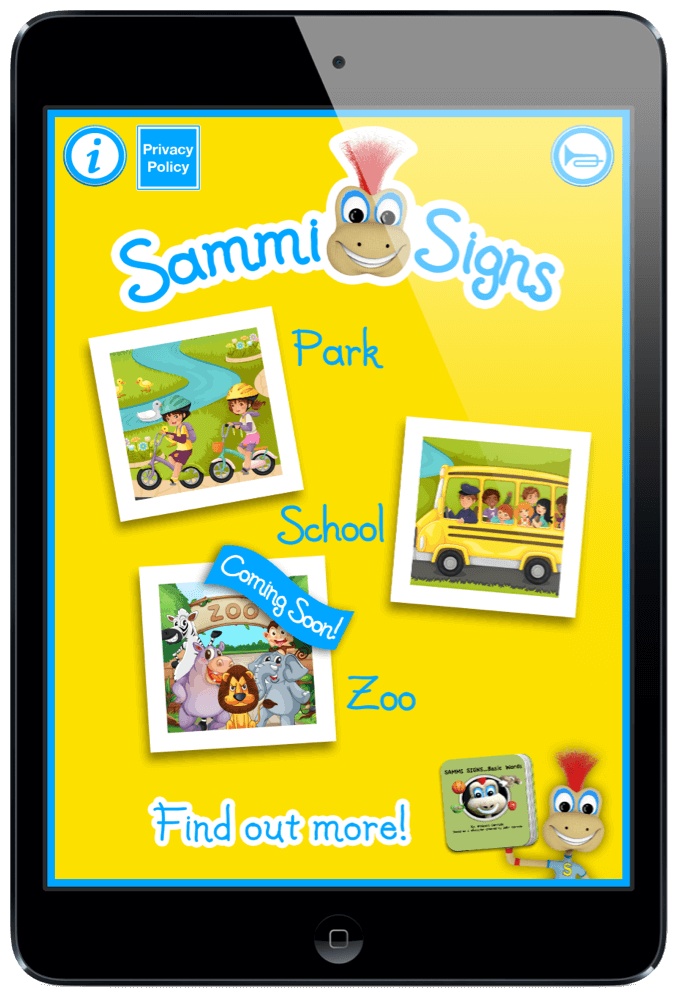 There are so many great benefits to teaching sign language to children at a young age. When my son was struggling with speech, I printed off and laminated little cards for beginner sign language. I studied them and then tried to teach them to my stubborn and struggling toddler. He picked the signs up so quickly and it was our only way to communicate at the time. The signs actually encouraged his speech and it was a huge help to get more words and better communication.
Keeping track of the cards however was kind of a pain. I only wish I had thought of using a great iPad app like Sammi Signs. This app teaches beginner sign language to children between the ages of 6 months – 5 years of age. Gracie and Sammi are darling. The graphics are fantastic. Sammi, the little frog, uses sign language to communicate his wants and needs. He makes it look easy and fun.
Melanie Corrado is the creator of Sammi Signs. She is a language arts specialist with a bachelors degree in psychology and a masters degree in education. This app is free which I love. There are in-app purchases available but you can try the app out before making a purchase and the first pack of words is free. The in-app purchase is for the school animation pack. There will also be a zoo pack coming soon.
How it Works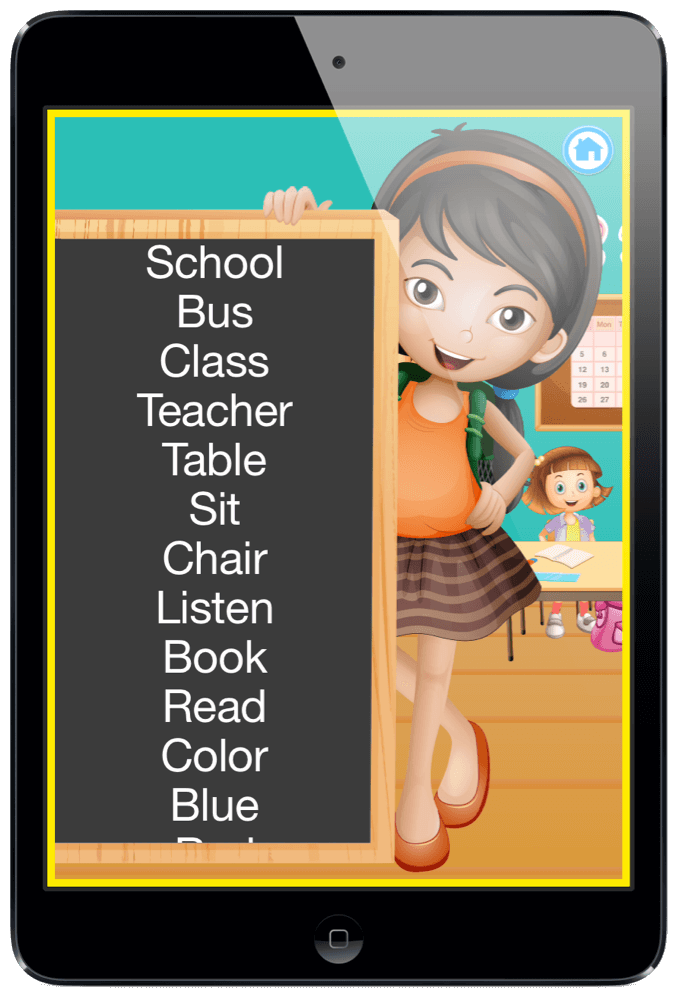 When you open the app, you will first notice the fun music and bright colors. They are attractive and the app is easy to use. The settings are minimal. You can choose to turn the music on or off in the upper right hand corner. There are no customizations and you won't find a settings menu.There is a page within the app that tells more about Sammi Signs and offers a basic words gift package.
This app is safe. There are parent controls for the in-app purchases and it has no other links outside of the app. You will notice, it is only offered in vertical mode. I don't love this but it didn't seem to bother my kids. On the main menu, you can click on the Park adventure or you can purchase the additional pack of words for "School". The zoo word pack is also coming soon. Once you click on "Park" or "School", you will be ready to begin. You can choose to learn new words or quiz the words you have already practiced.
Learn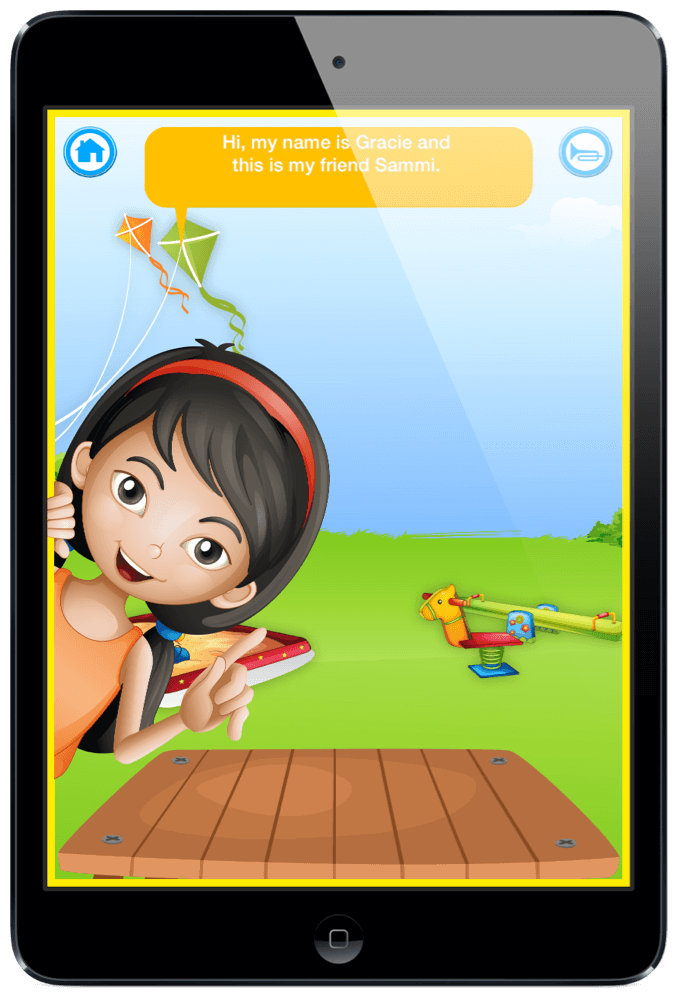 Let's Learn. Gracie is waiting to say hello once you begin! She will introduce Sammi, her best friend. He uses sign language to communicate while Gracie narrates. They will together step you through many basic words. If you want a full list of the words, you can also click on the top left icon underneath the home button. You can practice the same word over and over again or you can continue to move through different words. My 3 year old was willing to practice the words and he seemed really excited about the characters.
Quiz
Once you have practiced the signs, you can also test yourself with the Word Learning Quiz. This is very basic. It is also very fun so your child will not get discouraged. This could be great for parents to watch and see what the child is picking up on and for parents to practice as well.
The Benefits of Teaching Sign Language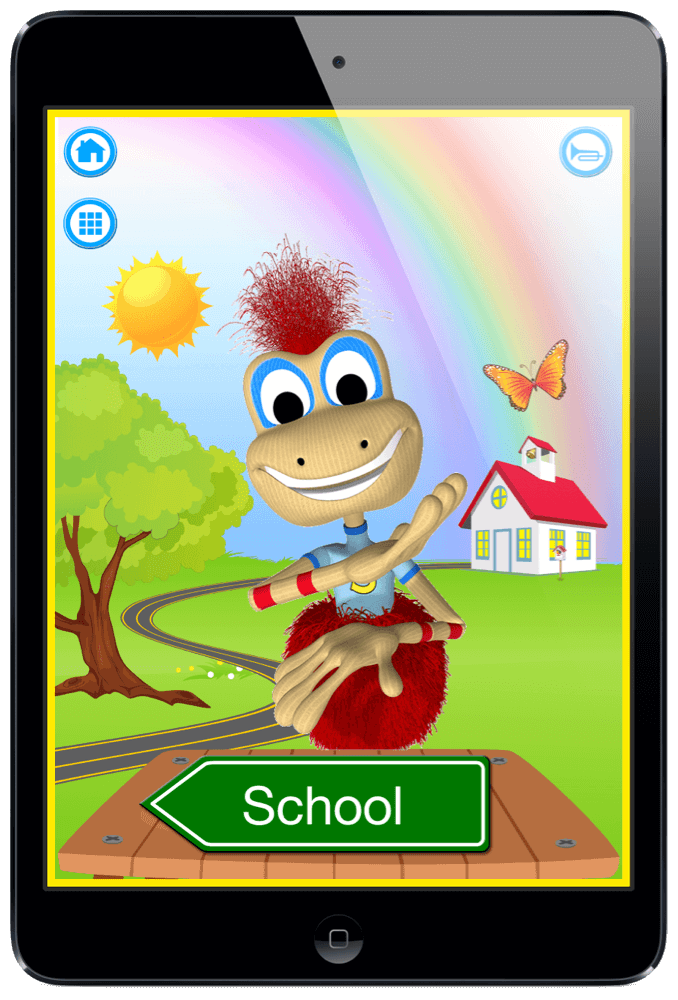 There are many benefits to teaching sign language to your child. These might include:
-Encourages early communication.
-Can increase the bond between parent and child.
-Signing also helps communicate emotions.
-Can be helpful for children that struggle to communicate, have a speech delay, hearing loss, or Autism.
-Boosts brain development and cognitive thinking.
What's Great About This App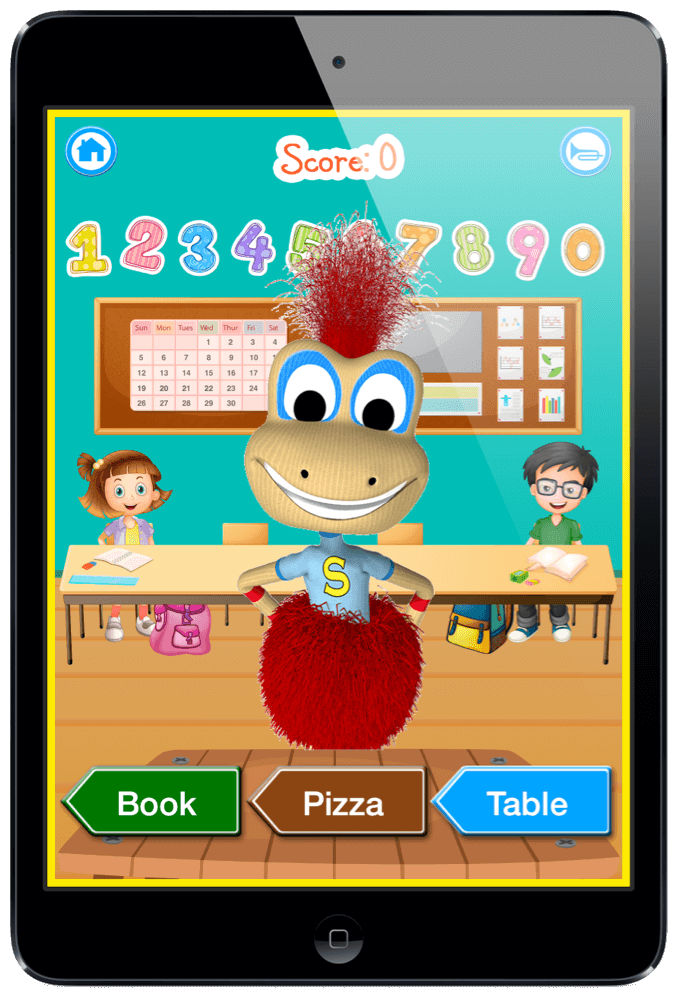 I think this is a really fun app. Young children will be able to learn basic sign language by watching and practicing the words. The app itself is really cute. The character, Gracie, is adorable. Sammi is very unique, his personality will grab the attention of kids right away. It is easy to navigate and simple to set up.
One improvement I would love to see is an in-app purchase for a pack of words that are used at home with self-help activities and life skills. I would love to see: brushing teeth, getting dressed, eating food, and going to bed. This would help the child and parent communicate better through sometimes challenging day to day activities. I also wish there were more pictures with the words. Children under 5 will not be reading and so it might be helpful to see a picture with the sign that Sammi makes.
Despite those 2 things, I am really excited to practice sign language with my son. He really enjoyed it and was picking it up quickly. This app makes it fun and simple for parents to introduce new signs and words. Parents do not need to have any previous experience with sign language to introduce it which is awesome. Be sure to enter the giveaway on the Touch Autism Facebook page and purchase Sammi Signs today!
Sammi Signs makes it easier for parents to take advantage of the benefits to teaching sign language to young children.
Buy Sammi Signs in the App Store
Learn basic and beginning sign language with Gracie and Sammi as they explore the park, trees, nature, and play. You can also purchase the School Animation Pack to learn more fun words about going to school, the bus, and the classroom. Also coming soon is a Zoo animal pack.This app is best suited for kids under 5.