Birdhouse for Special Needs App Review
Win this app February 22nd, 2016!
We offer free copies of apps we review on Facebook, Enter the giveaway here.
Birdhouse for Special Needs App Review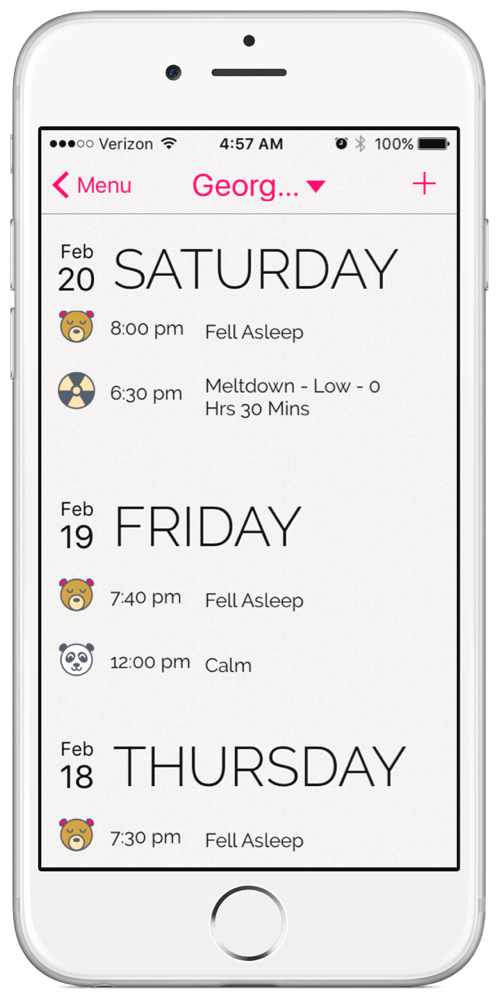 It didn't take long after my son was diagnosed with Autism before I was introduced to oversized planners, file boxes and color coded tabs. Every special needs parent I met in that first year had a display of never ending sticky notes that seemed to spread like a cold in a classroom. From the walls to the fridge they traveled and keeping them organized was a near impossible trick. We had notebooks stocked full of schedules, assessments, and therapy information: notes and ideas for new things to try, insurance codes, medical contacts, behavior tracking, supplement reminders, and more.
Being overwhelmed by paperwork and tracking behaviors was easily the hardest thing for me to handle. I am really excited to talk today about the Birdhouse for Special Needs app. This app has it all. You can keep nearly everything in one place. It is a tracking, and scheduling app for parents and caretakers of individuals with special needs.
According to their website, Birdhouse was created by a small team of family and friends. They wanted to make Autism and other special needs diagnosis' easier to navigate and stay organized with. This will help to improve the quality of life for so many special needs families.
Features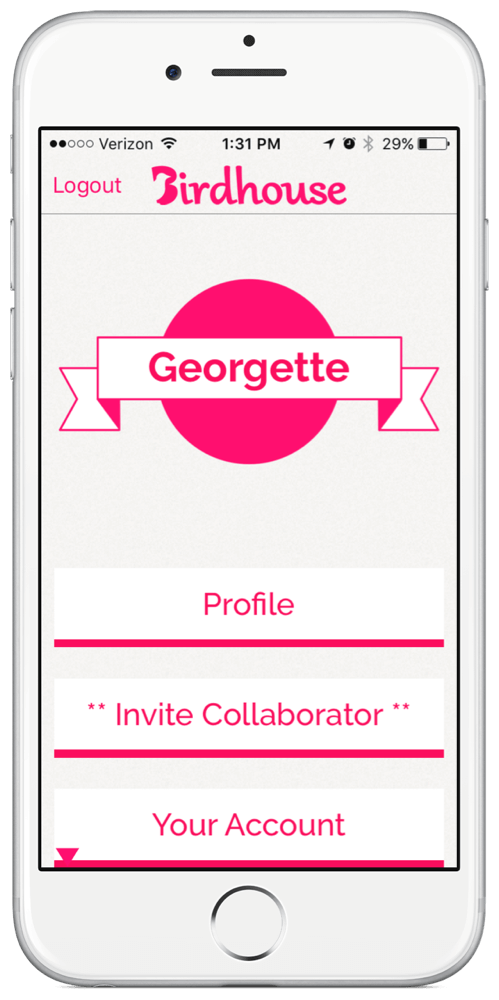 When you open the app, you will be asked to login. This app is free to download but does work with a subscription and so you need to set up an account through the Birdhouse website. Your information does sync across all of your devices so it's easy to stay on top of everything. You will need an Internet connection to use the app.
There is both an iPad or iPhone app available. The iPhone app was much easier to use. They both work the same way and have the same design but the iPad app is only available in vertical mode and not very custom for that use.
The design of the app is modern and simple. You will be taken out of the app if you need to set up your profile, account, add collaborators, get support, and learn more from the Birdhouse community. All of these things have to be configured on the Birdhouse website. When you create a child's' profile, you can add as many children as you want. Adding collaborators from, or getting support was not difficult from the phone, even in Safari, but changing your account or profile information was much easier from the desktop computer with a larger screen.
Adding collaborators is awesome. You can choose who can see and use the information. It is a simple process to set up and definitely worth the time. Think about parents, teachers, aides, and more accessing the childs' information, and contributing to it.
There are no parent controls. This app is not built for children to use. It is for adults and care takers but I can see my 5 year old getting into the app and playing with the schedule. One improvement would be a four digit code to enter the app or something to keep children out.
I took a deep breath when looking over the features and I haven't done that in a while. It felt so good thinking about the life changing improvement this could have on many overwhelmed parents of children with special needs. Being able to manage everything in one place is huge. Also, getting things set up was not overwhelming at all. The system is very clear and easy to understand.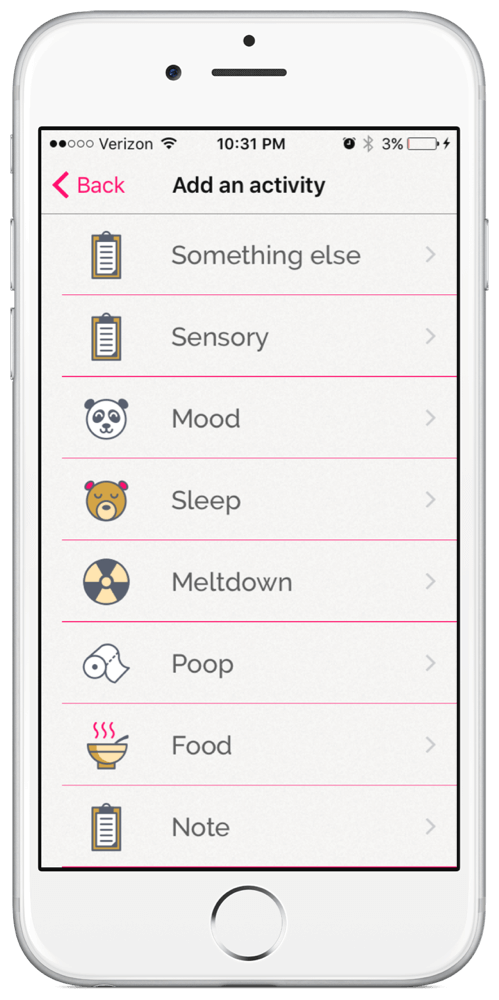 Activities
The activities tab has your calendar. You can scroll down to view the events, medications, and therapies scheduled. You can choose the "+" icon on the top right to add a new entry to your schedule. You can also swipe the entry at any time to edit or delete it.
If you click on the child's name at the top of the screen, and you will see a drop down menu. You can compare and isolate certain activities like meltdowns, bowel movements, sleep, food intake, and more. Honestly, I can't think of a better way to do this. I was very impressed.
Therapists
The therapists tab is your address book for all things special needs. You can add your OT, pediatrician, Speech therapist, ABA therapist, Behavioral Aide, or other. You can really add anyone you want that will help keep your schedule organized.
The best part of this tab in my opinion is the ability to add the frequency of appointments. By setting this up, it will automatically add it to your activity calendar each time that it happens. For example, if you see the OT every Tuesday and Thursday from 4 to 5, you can set it up on your schedule. If you only do it for 6 weeks, that's okay too. Just choose the time duration and when it ends.
Nutritions
The nutritions tab keeps track of your child's medications, supplements, and other nutritional needs. Never miss a dosage again. Everything will be streamlined into one calendar. Also, add your childs' medication info including the name, dosage, and frequency once and you will be able to see it from your phone wherever you are and whenever you need it.
Progress Tracking

Being able to see the improvement, track the development, and understand any changes in behaviors is key. You can access progress reports for certain skills on the Birdhouse website from your computer. You can export and print them off from there as well.
Birdhouse for Special Needs Overview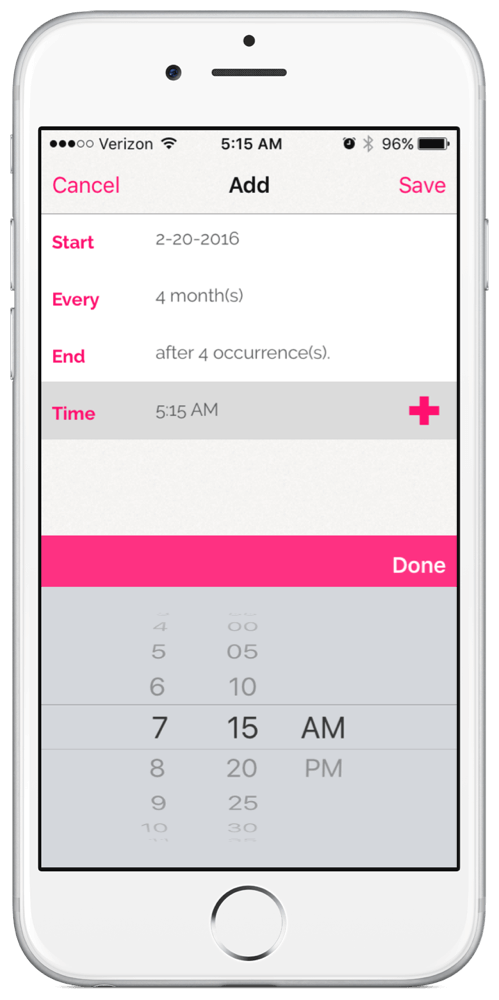 I am thrilled about this app. I have never seen such a thorough scheduling and organizing program for special needs. I would recommend it to all special needs parents that struggle to keep track of multiple therapies, behaviors, or medications. For many, the process is daunting and there are therapies, behavior strategies, and certain goals that fall to the wayside because of that. This app will make it more effective, and a parents job easier. The design of the app is easy to navigate and modern. Tracking data is vital to understanding your child's progress, or nutrition. I love that you can keep track of your child's daily progress in the app. No more jotting it down on paper notebooks or on those contagious sticky notes. One improvement I would love to see is the ability to customize more from your account within the app. I would also recommend adding a place for insurance info. A lot of parents have piles of medication information for their child and insurance codes that they need to track regularly. At the time of writing this review, Birdhouse for Special Needs was free to download in the app store but does require a subscription. There is a free subscription available in the app store but does support a premium subscription for $19/month.
To learn more, check out the Birdhouse website. Their focus is on improving the quality of life and progress tracking through technology.