Felt Board App Review
Win this app November 1st, 2015!
We offer free copies of apps we review on Facebook, Enter the giveaway here.
Felt Board App Overview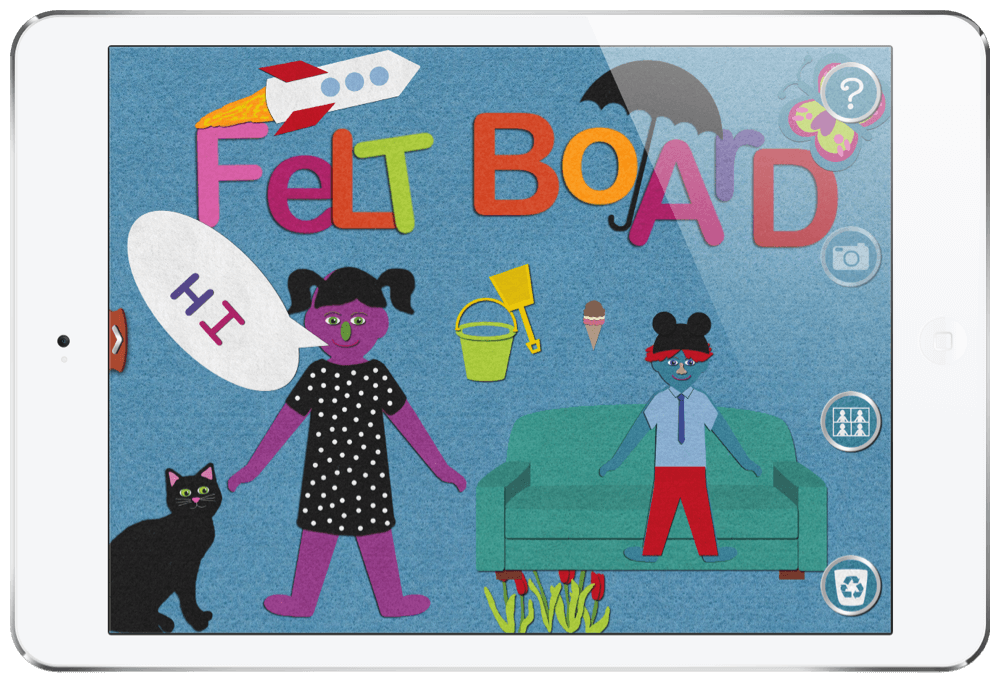 Imaginative expression plays an important role in a child's development. It encourages youth to think independently, understand others, and develop emotional depth. It also helps with healthy brain development. Felt Board brings a huge dose of creativity to the technology market. It also has a very nostalgic feel. I remember using flannel boards as a child and designing new outfits for my felt dolls. It was a really fun time and it's an exciting twist to bring this kind of play to the iPad. Be prepared to get hooked. The user can create create scenes, characters, words, and stories with textured felt stickers. This app isn't just great for parents kids though. It also is a great teaching tool. Teachers can create colorful pictures to use in lesson plans, therapy, and story telling. Whether you are creating a fun scene about seasons, or a picture board describing different letters in the alphabet, you can create it easily through Felt Board. The colors are very rich and there are so many stickers to choose from.
This app was created by Software Smoothie. They have developed many apps for kids. All of their apps focus on learning through play and imagination.

Stickers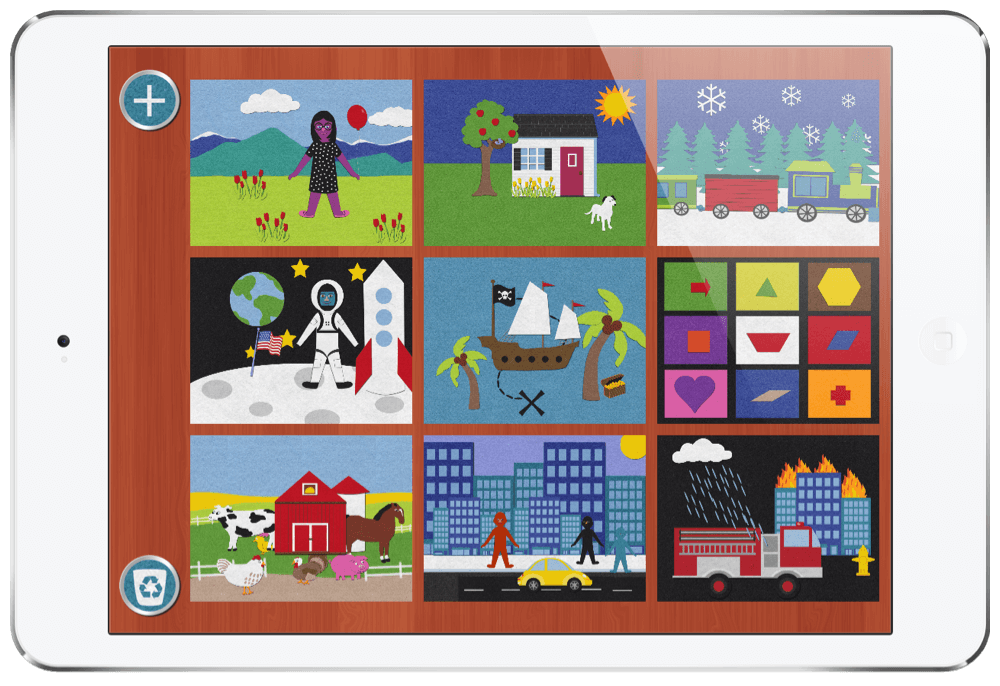 Let's talk about stickers! I have tried out a few other art and sticker apps. This one by far had the most stickers to choose from. One of the best features is that when you lay a new felt sticker on top of another, it automatically adjusts the size and fits it perfectly. The stickers that you will find within the app include:
Scenery
Letters
Shapes
People
Clothes
Vehicles
Buildings
Animals
Tangrams (with shapes)
Holiday Decor
Weather
Food
Word Bubbles
Features
The Felt Board app is very easy to navigate. There are no rules, steps, or guidelines. This is an app used for free play. When you open the app, you can begin right away. There is no navigation menu available. I think the more options and distractions around, the more overwhelming it can be for kids. For that reason, I prefer simple and really liked the set up.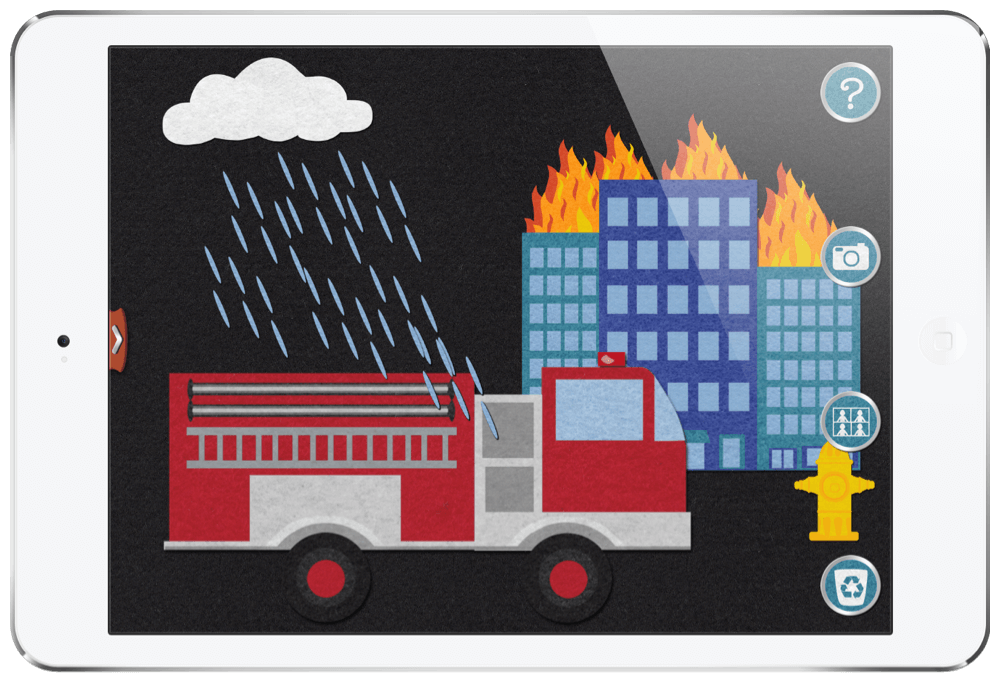 When creating, you will click on stickers and create boards. On the sidebar, you can also view all of your scenes, take a picture of your artwork, get support from Software Smoothie, and throw away any stickers you don't want. They won't permanently delete. They will just delete from the current board or creation that is on the screen at the time. This app will definitely improve fine motor and hand eye coordination. It also makes it easy to use for children who have delays in this area. While the child can work on pinching, placing, and dragging the stickers into the right areas, there are a lot of features that also assist those with fine motor delays and make it less overwhelming. The child can click on the sticker and immediately see progress without needing to drag it. It will already be on their board. The sticker also adjusts to the size of the object you place it on top of which is nice. Once it is placed, you can drag the entire character around the scene and you won't lose the other items you have placed on top.
After you have created your masterpiece, you can save all of your creations to your camera roll. You can print them from there or use them on the app.
Felt Board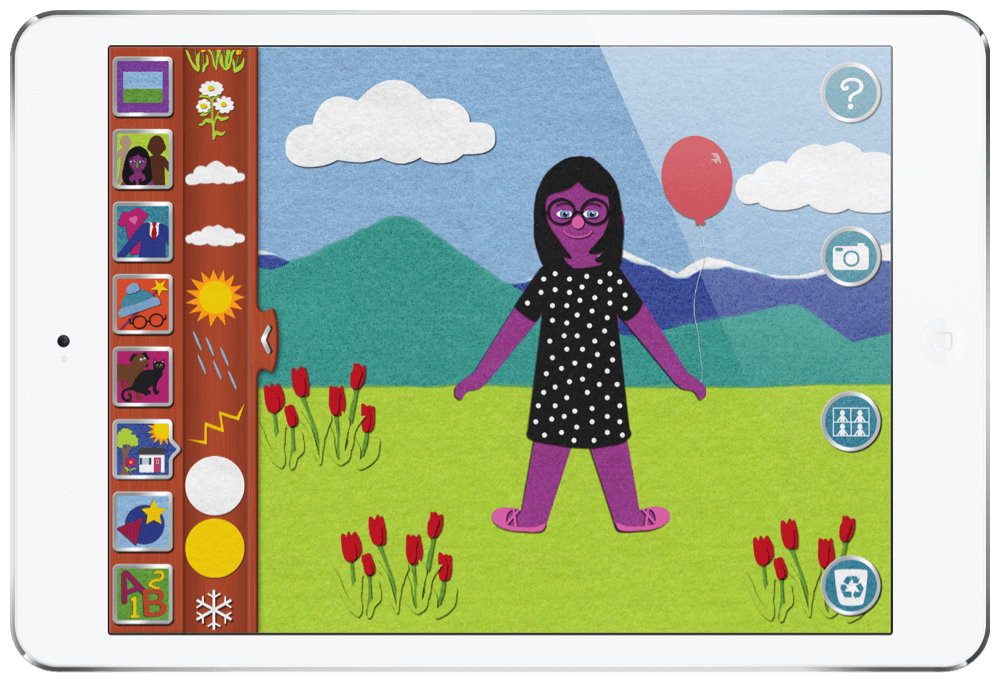 I would definitely recommend this app to children and teachers! I would even recommend it to adults looking for art therapy apps as well. The simplicity of the app mixed with the rich and colorful felt stickers is pretty magical and fun. The stickers' ability to change sizes and adjust to the house or person they are sticking to was really cool! I think this would be the perfect app for children who struggle with pinching, placing, dragging, or any similar fine motor skills. It will enable the support to improve without the frustration. It is important to note that I did get kicked out of the app a few times. I lost the scene I was creating once when that happened but I am not sure whether it was the app or my connection that was the problem. My other recommendation would be to add some music or sound effects within the app. It is really important to always make this optional and allow the parent/teacher the ability to turn it off but music gets my kids excited and adds another dimension to a creative fun app like this. It would even be cool if they could choose a sound effect for each scene they were creating. Overall I am very pleased and hope more families, parents, and teachers will check it out. Be sure to enter the giveaway on the Touch Autism Facebook page and purchase Felt Board today! At the time of writing this review, Felt Board retailed for $2.99 in the app store. To learn more check out the Software Smoothie website, a company all about creating apps that encourage learning through play and imagination!