Little Broken Robots App Review
Win this app February 7th, 2016!
We offer free copies of apps we review on Facebook, Enter the giveaway here.
Little Broken Robots App Review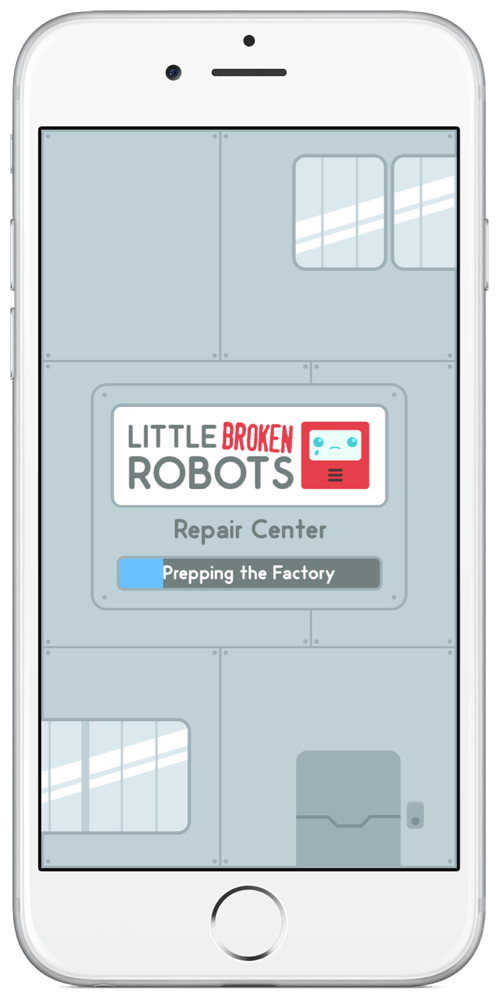 Help wanted! Little engineers are needed to join the ranks as robot repairing trainees. It will be a challenge. It will keep you engaged and above all, it will be fun.
I'm excited to talk about the Little Broken Robots app today. It is a strategy centered puzzle game for kids. The child will enter the lab as a trainee and begin putting their solving strategies to the test by dragging the numbers to re-wire the broken bots correctly. This game kept my whole family intrigued for hours. It will especially benefit children that exhibit strengths in mathematics, or engineering. Children that may need extra incentives will also benefit from this game. It is definitely a beginner to intermediate STEM activity. It offers strategy and fun at the same time.
When I started to review this app, I was charmed by their promotional video as well as their app. Be sure to check out the video clip as well. Little Broken Robots was created by Dragon Army. They are a mobile experience agency. They focus on creating apps, technology, and games that engage human behavior. They have worked with many big brand companies to build and engage viewership.
How it Works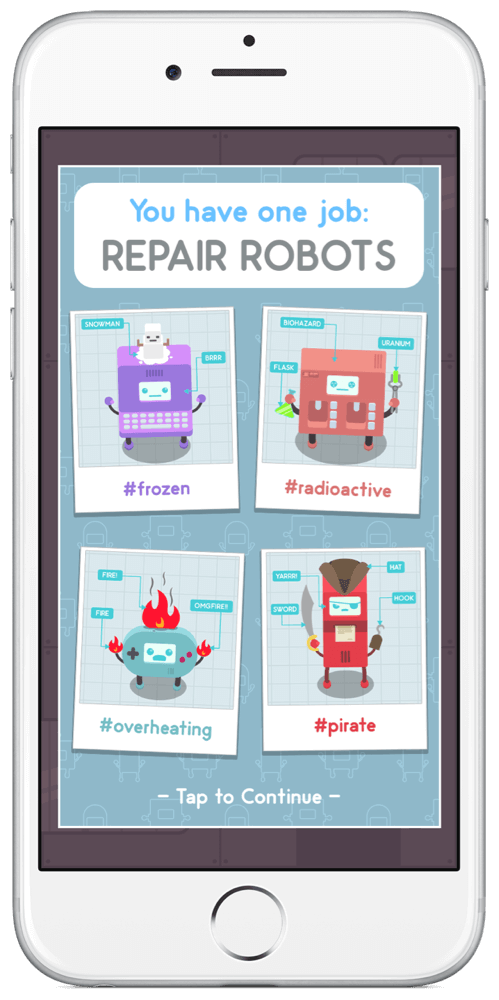 Let's get started. Open the app, wait for it to load, and you will be stepped through a tutorial before you begin. You will start with the classic mode and work your way through each rank. The modes that are available include classic, advanced, and timed. The broken robots get harder to fix as you progress through the game. In the classic and advanced modes, you move through each level. The timed mode, you will be racing the clock to get the best time.
Drag your fingers across the screen and rewire the numbers to fix each little robot. It will take some strategy, focus, and a little bit of patience. A lot of children with Autism or Aspbergers have strengths in mathematics, engineering, and science. I was really impressed with the challenge of this game. I struggle finding age appropriate games for my six year old with high functioning Autism that are still challenging enough. This was the perfect blend because there are age appropriate characters but still a lot of defying focus and demanding energy.
While I loved this game, I did notice that there are no parent controls. This app does have links that lead outside of the app to the developers social media accounts and to iTunes where you can upgrade and purchase more energy for the game. There are no scam ads or pop up ads but I would recommend parent controls in the future.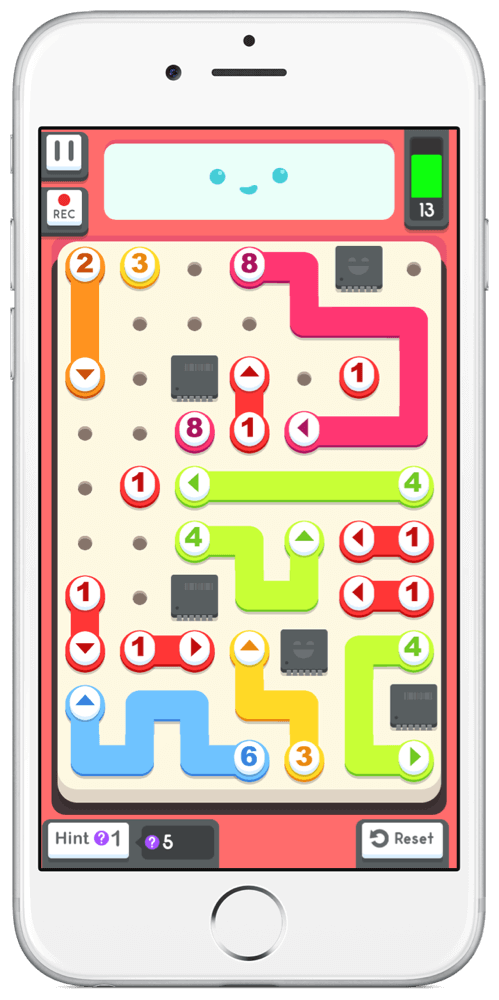 This game will last a long time. It moves through different ranks and different modes. It is highly unlikely that they will be able to master the game in hours or even days. The ranks available in this game will advance you from a trainee to a chief engineer.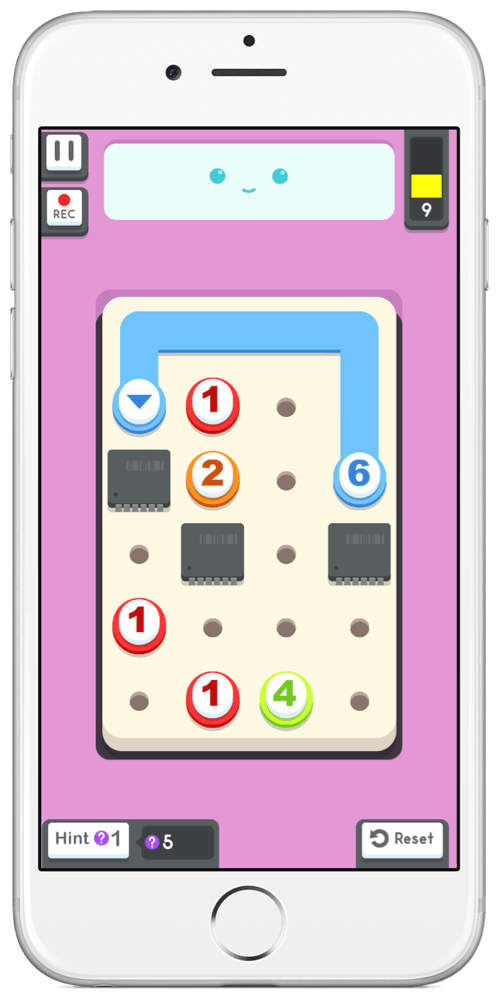 In order to play and advance through the game, you have to gain energy. You start with a certain amount of free energy and you can earn more as you complete the levels. You also can purchase all of the levels at once and so that the energy isn't pertinent.
If you are stuck in a level and need help, you can click on "hints" in the bottom left corner. As long as they are available and you haven't used them up; they helped us quite a few times.
The music and sound effects are really fun. If your child struggles with distractions however or certain sounds bother him, you can also click the pause button in the top left corner, and turn the sound and music on or off.
This app does not use free play or exploration. Your child will need to follow the steps and go through each level. I personally like that because it helps with structure but it is not the best way of learning for every child. It helps my son understand the rules of the game and how to master something. It has also helped us with eliminating distractions.
A unique feature that I have never reviewed before is the ability to record yourself playing the levels and fixing the bots. After you are done recording, you can share it with your family and friends by saving it to the camera roll.
Little Broken Robots Overview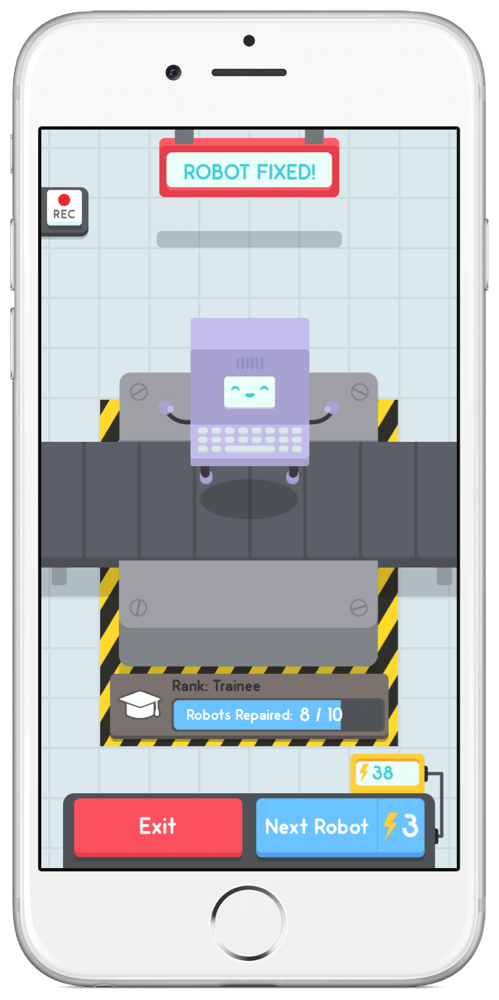 Overall, I am really excited about this game. Little Broken Robots is addictive, challenging, and perfect for that next little engineer. You have one job; repair the robots. I would recommend this app for children between the ages of 4-10 years of age. My four year old loved the game but needed help a lot. My six year old however was obsessed and did not need a lot of help after I explained the game to him. He caught on quickly and didn't want to put the game down. The few improvements I would recommend would be parent controls and voice modeling when a button is touched on the screen. Some children with special needs benefit from hearing what is said as well as reading it. I would also recommend making it easier for kids to go back and repeat easier levels. This app is available on both the iPhone, iPad, and iPhone Touch. At the time of writing this review, Little Broken Robots was free in the app store. To unlock all of the levels through in-app purchases, it retails for $2.99.
To learn more, check out the Little Broken Robots website.