Pepi Bath 2 App Review
Win this app March 13th, 2016!
We offer free copies of apps we review on Facebook, Enter the giveaway here.
Pepi Bath 2 App Review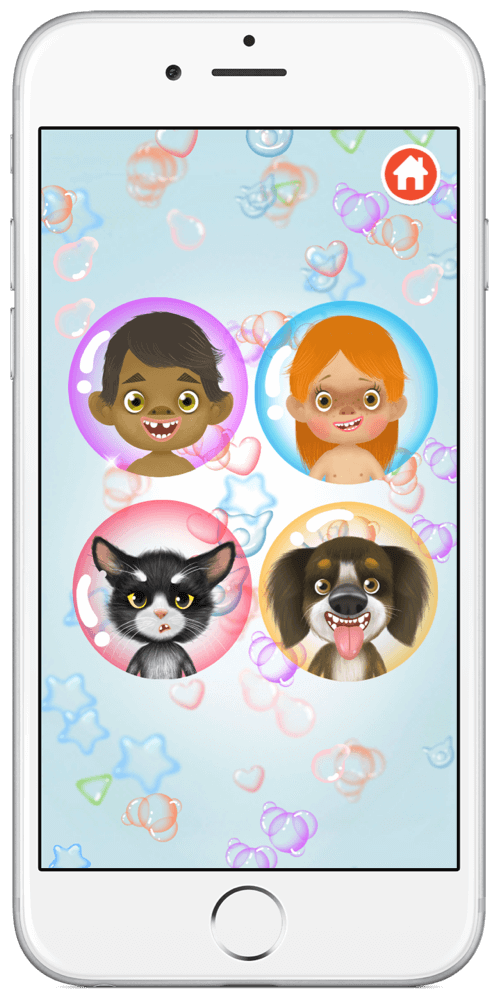 For parents, teachers, and caregivers looking for a fun app to help with self-care needs, look no further! Pepi Bath 2 is colorful, engaging, and fun. There are 6 different scene activities available which include: brushing teeth, bath time, getting dressed, toileting, laundry, and more.
It took nearly four years for us to give our son a bath without it accompanying a screaming tantrum. There are so many children with Sensory Processing Disorders that really struggle with daily life skills. Luckily through a lot of occupational therapy, he has become a happier and more comfortable kid. A lot of how we reached him was through play, social stories, and patience. This app is a great way to make those daily tasks fun and begin introducing the importance of them. The interactive characters in the app will keep your child engaged. The thorough activity scenes give the child plenty to accomplish, explore, and understand. For those who have played the original game, Pepi Bath, this is the sequel. It offers many new updates including: new bath scenes and activities, new characters, updated graphics, and more
Pepi Bath 2 was developed by Pepi Play. They have a lot of captivating apps for children that help with play, emotions, life skills, and exploration. They started in 2011 in Vilnius, Lithuania.
Features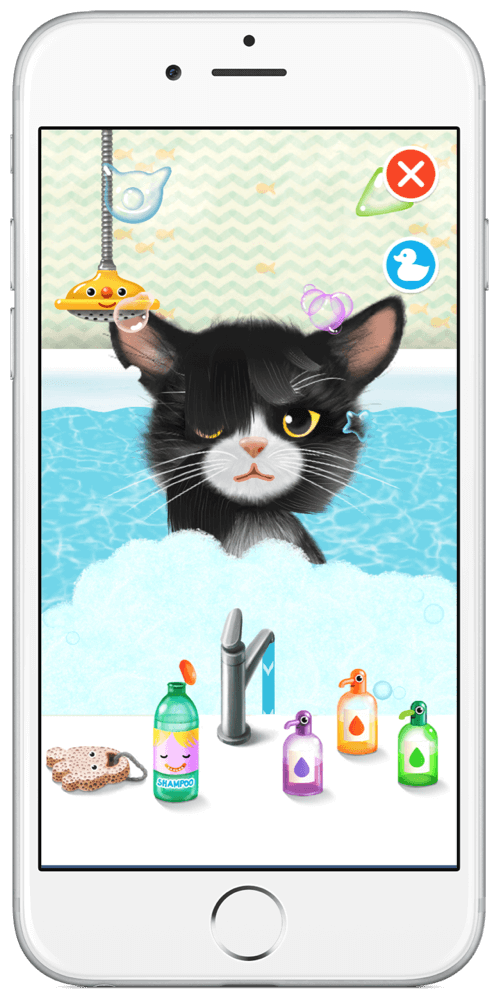 Let me start by saying the characters in this app are awesome! They are what keep kids giggling and intrigued. My son loved the cat. They are very animated and you don't find that very often.
When you open the app, you can choose a character and a scene. You can also view their other apps advertised through out the game. While I understand the purpose for them being there, it is a hard distraction for kids on the Autism Spectrum. They might be more interested in the advertisement picture than the current app scene. Parent controls are set in place so the child can't get into the app store and it is relatively safe because of that.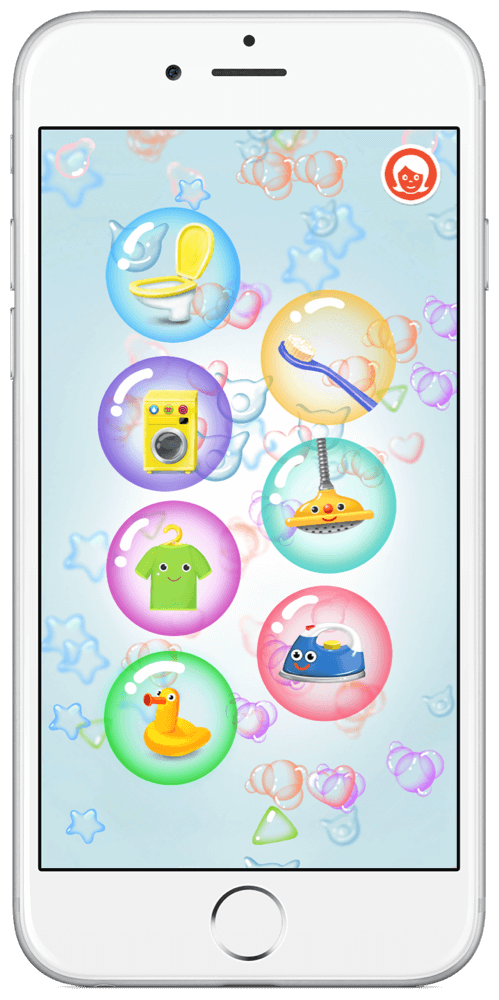 The daily skills included in this game are: toileting, brushing teeth, laundry, showering, getting dressed, ironing, and bath time. I really loved the showering scene. You can use the shower head to spray the character. You can wash their hair with shampoo and their body with soap. You can touch the screen to create more bubbles. The colors are bright and intriguing. It's perfect for keeping children hooked. The laundry and ironing scenes are fun but I would to see those tasks completed with a grown up character helping the child character complete the task. Obviously an iron is very hot and could be dangerous for young children and running laundry can also be an advanced skill for an older child. While it is a game, children with Autism are often very literal and will not understand that a parent should be helping.
One of the great features in Pepi Bath 2 is that it supports natural exploration. The child can go at his or her own pace. They can touch the characters, the bubbles, and the items around the scene. The character will shake his or her head responding with "mmmm mmm" to say "no!" when they are not doing it in order. It definitely prompts the child to do it correctly but will let them explore as they figure it out as well.
My two boys laughed and giggled almost the entire time when playing this app. They loved it. Blow drying the cats' hair and the using the shower head was probably their favorite part. Even though the app is very silly, I do think it will help kids a lot with introducing the importance of self-care tasks and how they work.
Pepi Bath 2 Overview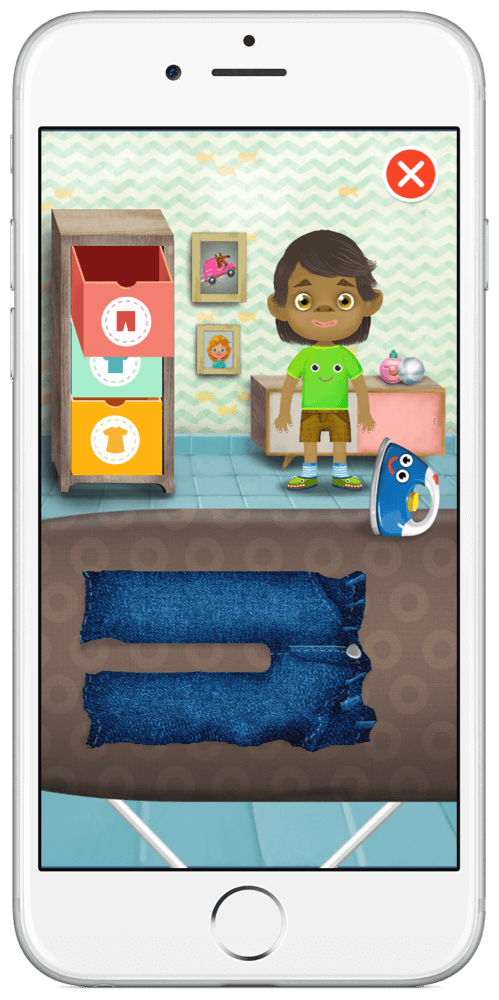 Pepi Bath 2 will help a lot of individuals with special needs. It is definitely geared towards little children between the ages of 2-6 but I would recommend it to anyone who struggles with day to day self-care. There is a lot to do within the app.
I would recommend a few improvements regarding the safety for the laundry and ironing tasks. I might recommend a more age appropriate activity scene like putting clothes into the hamper or folding and hanging up shirts. Also, when returning to the main menu, you have to continually press back through the submenus. This was a little time consuming. I wish there was a main menu button on every screen to start the game over.
The colors, and spirited characters were awesome. Their animated faces and exaggerated expressions are perfect for children with special needs. The app is easy to use and understand. Children will not have a hard time navigating it at all. Overall, I am very pleased with this app and am excited for you to get a copy and try it out! At the time of writing this review, Pepi Bath 2 retailed for $2.99 in the app store.
To learn more, check out the Pepi Play website. captivating apps for children that help with play, emotions, life skills, and exploration.